Loire Valley with Allison Tyler Jones
7 days, 6 Nights      8-12 Guests     From $3850 Non-photographer partner discount!       September 18-24, 2022
---
Study yes!  But each day we'll also explore the villages, vineyards, and the magnificent castles that dot the dreamy Loire River Valley.  Our 5th autumn workshop in the Loire!
Allison Tyler Jones is our very special guest for this workshop.  Along with her husband Ivan and a dedicated staff Allison runs one of the most successful and progressive studios in America.   She will teach her remarkable portrait skills as well as business skills you will use to quickly pay for this trip!
See some of Allison's studio work
Ivan Jones, who speaks French and has lived in France will join us for this magical week of learning, sharing business tips as we travel and dine together.
The tour is hosted by Loire native Marie Deforge Heiss and her husband, artist Rod Heiss.  You will savor local culinary specialties and famous wines of the Loire.  They will share their favorite hidden places, local markets, and waterfront views almost impossible to find on your own.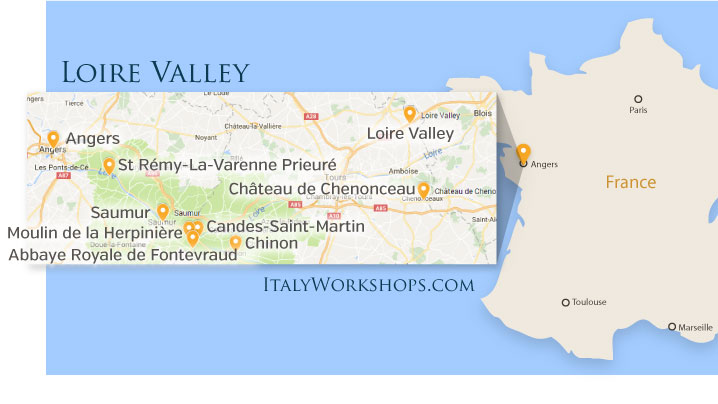 Pre-Workshop: Arrive Paris airport and take train directly from CDG airport to Angers, France, ( 2.5 hours); or visit Paris for a few days before heading to Angers.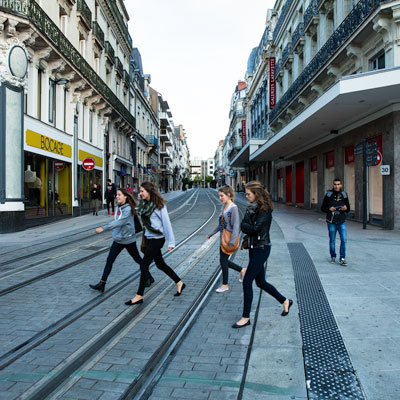 Day 1 | Angers
Check in at the Best Western Hotel Anjou (1 night). Join the group for a walking tour of Angers and crepes in the historic center.
Our first evening we'll focus on photographing street scenes and creating architectural "still life" images in the old town.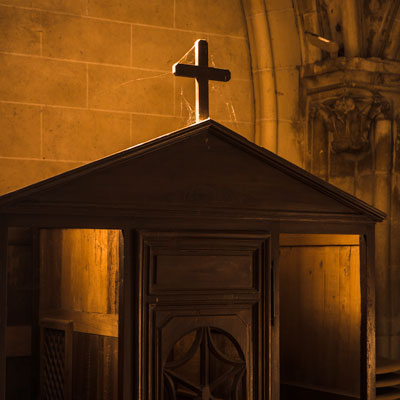 Day 2 | L'Abbaye
Workshop the farmhouse
Load up and travel in mini-vans.
Stop along the way at one of the charming villages in the valley, St. Rémy-La-Varenne Prieuré & Cunault Church.
Check in at Domaine de Mestré, our charming 14th century country inn (5 nights).
Pay an evening visit to world-famous Fontevraud Abbey.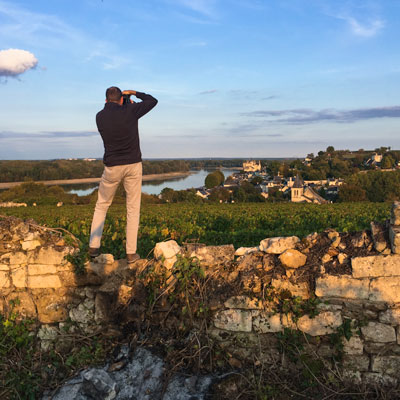 Day 3 | Saumur
Workshop in the living room.
A relaxed drive to the riverside town of Saumur with its imposing castle.
Step back in history in the remarkable  Champigny troglodyte caves.
Vineyard visits along the way to photograph and taste.
Sunset at Parnay Church with a tailgate gourmet picnic.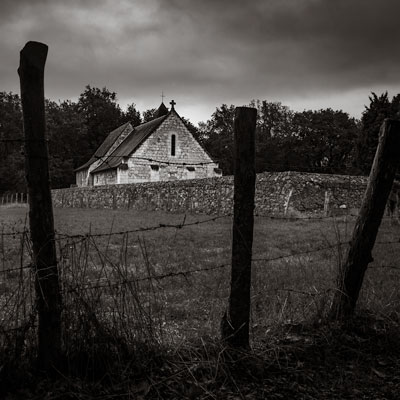 Day 4 | St. Pierre-en-Vaux
Begin the day with a sunrise shoot at St. Pierre-en-Vaux country church and cemetery.
Continue with visits to tiny Prieuré Church and the pre-historic Dolmen at La Bajoulière.
Have lunch in the caves of Rou Marson, tasting the fire-baked specialties there.
Workshop among hobbit-style houses and famous cave/cellars of Loire Valley.
Last light finds us at the windmill, Moulin de Gouré or Louresse-Rochemenier.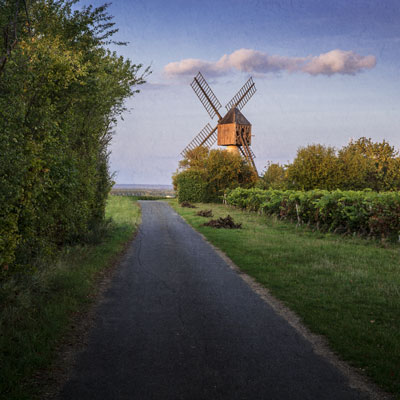 Day 5 | Candes-Saint-Martin & more!
Workshop in the living room, everyone sharing some favorite images.
Visit Candes-Saint-Martin Village with its fantastic cathedral set in a charming little village.
Picnic lunch at Montsoreaux Village and Castle.
Stop to photograph a windmill set in a quiet vineyard: Moulin de la Herpinière.
Chinon Village/Fortress.
Evening shoot of Fortress/Landscape from across the river.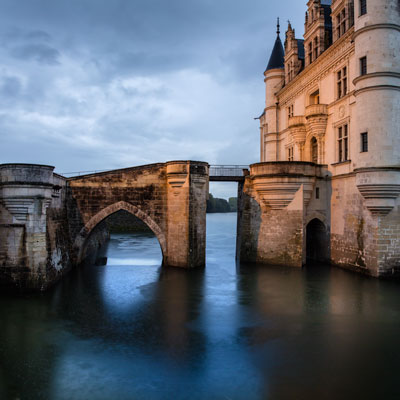 Day 6
In our workshop tradition, we're keeping this morning open so the group can decide whether to revisit a location, explore a new one  or simply relax and the farmhouse and do some editing.
In the evening, we've arranged for a private dusk-shoot at Chateau Chenonceau, a rare treat without the tourist crowds.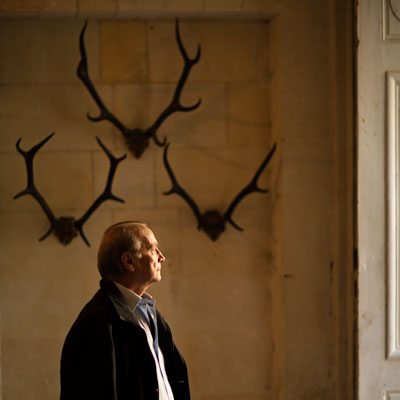 Day 7 | Angers
Workshop wrap-up in the living room at the Inn and slideshow.
Check out and meander back through this serene countryside toward Angers.
We'll find a village for lunch along the way.
Arrive at the Angers Station by 3:00 p.m. where we can help you find the train you need.
Au revoir!
The Workshop
This is NOT simply a photo tour.  We'll devote a little time each day for classroom sessions at the farmhouse to offer inspiring new ideas about capture, editing and business innovations.
Hands-on photography sessions in the field and at the farmhouse will help you lock in the concepts and accomplish great images to take home.
Finally, we view the results of participants' work on the big screen back at the farmhouse.  Our guests always remind us how important it is to see what others are capturing and to get feedback.
Workshop Sessions
Classroom time (usually one-hour sessions during midday) is devoted to reviewing your daily images on-screen and offering helpful suggestions. In the field, our discussions center around better composition and finding great light. And of course, answering your technical questions and helping you master your own equipment.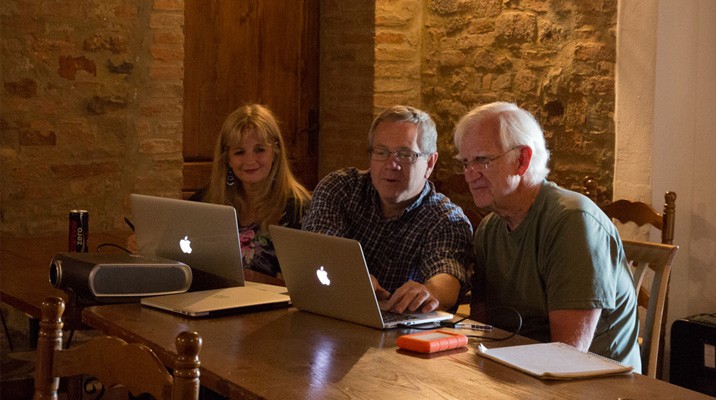 Workshop Leader – Allison Tyler Jones
Mother of 2, step mom to 5, with 5 grands, Allison founded the studio in 2005 and really only cares about hanging out with your kids and making them laugh.
"I want for you to have art on your walls, art that happens to be your family.
Images that make your heart skip a beat every time you pass them in your home. I want you to have photographs of your family that, when it's been a particularly tough day, remind you of why you decided to do this whole messy thing called, "Family" in the first place.
Images that go beyond just a record of the people in your life, images that capture the essence of your unique family; their personalities, the connection between them and the love that binds you all together."
Local Hosts
Marie Deforge Heiss is our local host and trip manager. She was born and raised in the Loire Valley and promises to show us the very best of the region's villages and landscapes. Marie will keep you informed at all times about our schedule, travel plans, meal options, and various other important details. More about Marie …
Artist Rod Heiss (Marie's husband and all-around good guy) will join the group if we have have 8-10 guests.   Having Rod along means all your travel bumps are smoothed out.  Where's the nearest cafe? ATM? Best place for lunch? He's got you covered.
Experienced local trip managers like Marie and Rod allow the instructor to be available to you full time, instead of chasing down logistics. This is your guarantee of a safe and smooth week of learning.
Italy Workshops offices are located in Salt Lake City, UT in the historic downtown mansion of Busath Studio & Gardens.  Please feel free to stop in and visit.
We are open and reachable by phone Tues-Friday 10AM to 6PM MST.  801-364-6645
Sheryl Bird handles all registrations from her office in Boston, MA.  Sheryl is reachable by email at info@italyworkshops.com
Frequently Asked Questions
We don't get hung up on camera brands or even how new and shiny it is. However, for this portrait workshop we will suggest bringing along a good "portrait lens".   A good choice is a 70-200mm* with a max aperture of f2.8 or f4.  In addition you'll enjoy having a good wide quality wide angle lens, we'd suggest 16-35mm*.
Traveling light is important on these tours, so two lenses and one or two bodies is just fine. A backpack or shoulder bag is best for mobility.  A lightweight travel tripod is highly recommended.
*full frame equivalent
Participants who are very comfortable with their computer are encouraged to bring it along. Editing your images during the week can enhance your learning experience. We currently use Adobe Lightroom CC for our on-screen reviews sessions. You will learn new LR editing methods and workflow shortcuts during classroom reviews and critique. Even if you've used Lightroom, we highly recommend brushing up before the workshop by watching the free tutorials available on Adobe.com.
If you are not fluent downloading and managing digital images, you might consider leaving the computer behind and just focusing on camera work. You can still submit images daily for review, and perhaps find more time to learn about your camera and develop a discerning eye. (Not to mention sleep happily while others are editing into the night)
Observer Participants may be beginner photographers, attending all instruction and field trips, but not required to submit photos for critique. This is a fun way to learn without pressure. You'll still photograph the same things and we'll still want to review your work on the back of your camera and offer individual instruction in the field.
All Skill Levels Are Welcome
Intermediate Photographers
We enjoy helping you master that new camera.  Short, daily field lessons will tackle one technique at time. Further individual attention in the field helps you lock in the concepts.
Non-photographer partners are included in all activities and even welcome to sit in on workshop discussions. (WARNING: Beginner-partners tend to get hooked and often make some of the best images of the group)
Advanced Photographers
As an advanced photographer you'll be encouraged to:
Build your portfolio, adding strong images every single day of the trip.

Focus on style development, lighting and composition.

Work in "concentrations" to produce a collection of work suitable for a gallery showing or book project.
You will return home with a body of work suitable for a gallery showing or book project that will express your personal style, as opposed to a random collection of travel photos.
Loire Valley Photo Workshop Reviews
Loire Valley Photo Workshop Dates
Loire Valley 
| September 18-24, 2022
---
Begin and end in Angers, France*
Group Size: 6-12 People
Price
$3850 / Participant (double occupancy)
$450 / Single Supplement
$200 non-participant partner discount
* These trip starts and ends in Angers, France. You can arrive in any major French city, but Paris is recommended. 
Included:
Travel
Ground travel by minivan included. Starting from and returning to Angers, France.
Hotels
5 nights accommodations at  Domaine de Mestré.
1 night accommodation at Best Western Hotel Anjou
Meals
All breakfasts, lunch or dinner 5 days
Workshop
Workshop tuition, including instruction in the field throughout the week and on-screen review where allowed by time and hotel space.
---
Not Included:
Airfare
Trip insurance (recommended)
*Also not included are crowds of tourists, slow moving tour guides and lectures on the history of plague 🙂
Payment Schedule
A reservation fee of $500/person will hold your spot
The balance of payment is due 120 days prior to your workshop/tour
Hotel Rooms
We use hotels rated 3 or 4 stars, always with private bath. Rooms are assigned in order of reservations received, so early signup is recommended. Ask about premium rooms if you would like to upgrade for an additional supplement charge.
Single Private Room Supplements
Fees are based on double occupancy. Single supplement may be added for participants who wish to have a private room to themselves. Supplements vary depending on the hotels used.  If you are traveling alone and wish to share a room with another participant, please let us know and we'll do our best to match you with a roommate.
Cancellation fee schedule 
There is no charge for cancellation within ten days of booking your workshop.
After ten days, reservation fees are non-refundable but may be applied to a future workshop event.
Cancellations less than 90 days prior to workshop incur a cancellation fee of 25% of the total workshop cost.
Cancellations less than 45 days prior to workshop incur a cancellation fee of 50% of the total workshop cost.
Cancellations less than 15 days prior to workshop incur a cancellation fee of 75% of the total workshop cost.
No partial refunds will be given for unused portions of a workshop.
Travel Insurance
We strongly recommend that you purchase travel  insurance to protect your investment.  Travel Guard is a good place to start shopping for trip insurance.  You can get a free quote online.
Cancelled Workshops
Italy Workshops reserves the right to cancel any trip for any reason whatsoever, including insufficient signup, logistical problems that may impede a workshop, hotel closures or acts of God.
Refund of all fees paid shall release Italy Workshops from any further liability. Italy Workshops is not responsible for any expenses incurred by workshop participants in preparing for a cancelled workshop. In the case of insufficient signup to make a workshop feasible, notice and refund will be sent 120 days prior to the workshop.
Photographic Release
Italy Workshops reserves the right to photograph and film its trips in entirety. Participants should be aware that images of them may be used for promotional purposes or joint marketing efforts with third parties, without remuneration.
Reserve Your Workshop Experience Today
Group sizes are extremely limited. Please reserve early.
You can reserve your spot by filling out the form below,
or by calling us at 801-364-6645