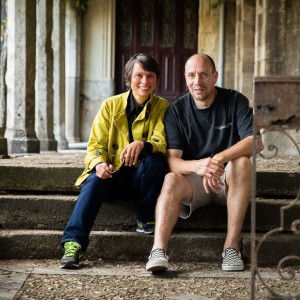 Tour Producers and Guides, France
Marie Deforge Heiss was born and raised in the Loire Valley of central France with its fine blue slate, its uniquely soft light and wild river.   As a nurse, she worked in hospitals and clinics located in the heart of the Loire.  An avid hiker she grew to know and love the remarkable light, the country churches and villages that dot the river.  
Now living in the states, Marie is always super enthusiastic about returning and sharing "her Loire River Valley" with photographers who can appreciate and capture its magic. 
Rod Heiss, renowned artist, foodie and longtime friend of Drake, was clever enough to marry Marie 8 years ago.  That's how we all met and decided to tour the Loire as often as possible.  In addition to managing logistics for our group, Rod puts on amazing French gourmet picnics for us.  You may want to join him shopping the local markets, boulangerie and boucherie.  Rod is a prolific and accomplished abstract painter.   We're indebted to him for the artistic depth he brings to our discussions.