Warning
: chmod(): No such file or directory in
/nfs/c08/h04/mnt/117165/domains/italyworkshops.com/html/wp-includes/plugin.php(452) : runtime-created function
on line
1
Warning
: chmod(): No such file or directory in
/nfs/c08/h04/mnt/117165/domains/italyworkshops.com/html/wp-includes/plugin.php(459) : runtime-created function
on line
1
Warning
: chmod(): No such file or directory in
/nfs/c08/h04/mnt/117165/domains/italyworkshops.com/html/wp-includes/plugin.php(466) : runtime-created function
on line
1
Warning
: chmod(): No such file or directory in
/nfs/c08/h04/mnt/117165/domains/italyworkshops.com/html/wp-includes/plugin.php(471) : runtime-created function
on line
1
Warning
: chmod(): No such file or directory in
/nfs/c08/h04/mnt/117165/domains/italyworkshops.com/html/wp-includes/plugin.php(477) : runtime-created function
on line
1
Warning
: chmod(): No such file or directory in
/nfs/c08/h04/mnt/117165/domains/italyworkshops.com/html/wp-includes/plugin.php(484) : runtime-created function
on line
1
Warning
: chmod(): No such file or directory in
/nfs/c08/h04/mnt/117165/domains/italyworkshops.com/html/wp-includes/plugin.php(452) : runtime-created function
on line
1
Warning
: chmod(): No such file or directory in
/nfs/c08/h04/mnt/117165/domains/italyworkshops.com/html/wp-includes/plugin.php(459) : runtime-created function
on line
1
Warning
: chmod(): No such file or directory in
/nfs/c08/h04/mnt/117165/domains/italyworkshops.com/html/wp-includes/plugin.php(466) : runtime-created function
on line
1
Warning
: chmod(): No such file or directory in
/nfs/c08/h04/mnt/117165/domains/italyworkshops.com/html/wp-includes/plugin.php(471) : runtime-created function
on line
1
Warning
: chmod(): No such file or directory in
/nfs/c08/h04/mnt/117165/domains/italyworkshops.com/html/wp-includes/plugin.php(477) : runtime-created function
on line
1
Warning
: chmod(): No such file or directory in
/nfs/c08/h04/mnt/117165/domains/italyworkshops.com/html/wp-includes/plugin.php(484) : runtime-created function
on line
1
Warning
: chmod(): No such file or directory in
/nfs/c08/h04/mnt/117165/domains/italyworkshops.com/html/wp-includes/plugin.php(452) : runtime-created function
on line
1
Warning
: chmod(): No such file or directory in
/nfs/c08/h04/mnt/117165/domains/italyworkshops.com/html/wp-includes/plugin.php(459) : runtime-created function
on line
1
Warning
: chmod(): No such file or directory in
/nfs/c08/h04/mnt/117165/domains/italyworkshops.com/html/wp-includes/plugin.php(466) : runtime-created function
on line
1
Warning
: chmod(): No such file or directory in
/nfs/c08/h04/mnt/117165/domains/italyworkshops.com/html/wp-includes/plugin.php(471) : runtime-created function
on line
1
Warning
: chmod(): No such file or directory in
/nfs/c08/h04/mnt/117165/domains/italyworkshops.com/html/wp-includes/plugin.php(477) : runtime-created function
on line
1
Warning
: chmod(): No such file or directory in
/nfs/c08/h04/mnt/117165/domains/italyworkshops.com/html/wp-includes/plugin.php(484) : runtime-created function
on line
1

Warning: chmod(): No such file or directory in /nfs/c08/h04/mnt/117165/domains/italyworkshops.com/html/wp-includes/plugin.php(452) : runtime-created function on line 1

Warning: chmod(): No such file or directory in /nfs/c08/h04/mnt/117165/domains/italyworkshops.com/html/wp-includes/plugin.php(459) : runtime-created function on line 1

Warning: chmod(): No such file or directory in /nfs/c08/h04/mnt/117165/domains/italyworkshops.com/html/wp-includes/plugin.php(466) : runtime-created function on line 1

Warning: chmod(): No such file or directory in /nfs/c08/h04/mnt/117165/domains/italyworkshops.com/html/wp-includes/plugin.php(471) : runtime-created function on line 1

Warning: chmod(): No such file or directory in /nfs/c08/h04/mnt/117165/domains/italyworkshops.com/html/wp-includes/plugin.php(477) : runtime-created function on line 1

Warning: chmod(): No such file or directory in /nfs/c08/h04/mnt/117165/domains/italyworkshops.com/html/wp-includes/plugin.php(484) : runtime-created function on line 1



Warning: chmod(): No such file or directory in /nfs/c08/h04/mnt/117165/domains/italyworkshops.com/html/wp-includes/plugin.php(452) : runtime-created function on line 1

Warning: chmod(): No such file or directory in /nfs/c08/h04/mnt/117165/domains/italyworkshops.com/html/wp-includes/plugin.php(459) : runtime-created function on line 1

Warning: chmod(): No such file or directory in /nfs/c08/h04/mnt/117165/domains/italyworkshops.com/html/wp-includes/plugin.php(466) : runtime-created function on line 1

Warning: chmod(): No such file or directory in /nfs/c08/h04/mnt/117165/domains/italyworkshops.com/html/wp-includes/plugin.php(471) : runtime-created function on line 1

Warning: chmod(): No such file or directory in /nfs/c08/h04/mnt/117165/domains/italyworkshops.com/html/wp-includes/plugin.php(477) : runtime-created function on line 1

Warning: chmod(): No such file or directory in /nfs/c08/h04/mnt/117165/domains/italyworkshops.com/html/wp-includes/plugin.php(484) : runtime-created function on line 1


Warning

: chmod(): No such file or directory in

/nfs/c08/h04/mnt/117165/domains/italyworkshops.com/html/wp-includes/plugin.php(452) : runtime-created function

on line

1 Warning

: chmod(): No such file or directory in

/nfs/c08/h04/mnt/117165/domains/italyworkshops.com/html/wp-includes/plugin.php(459) : runtime-created function

on line

1 Warning

: chmod(): No such file or directory in

/nfs/c08/h04/mnt/117165/domains/italyworkshops.com/html/wp-includes/plugin.php(466) : runtime-created function

on line

1 Warning

: chmod(): No such file or directory in

/nfs/c08/h04/mnt/117165/domains/italyworkshops.com/html/wp-includes/plugin.php(471) : runtime-created function

on line

1 Warning

: chmod(): No such file or directory in

/nfs/c08/h04/mnt/117165/domains/italyworkshops.com/html/wp-includes/plugin.php(477) : runtime-created function

on line

1 Warning

: chmod(): No such file or directory in

/nfs/c08/h04/mnt/117165/domains/italyworkshops.com/html/wp-includes/plugin.php(484) : runtime-created function

on line

1

Warning

: chmod(): No such file or directory in

/nfs/c08/h04/mnt/117165/domains/italyworkshops.com/html/wp-includes/plugin.php(452) : runtime-created function

on line

1 Warning

: chmod(): No such file or directory in

/nfs/c08/h04/mnt/117165/domains/italyworkshops.com/html/wp-includes/plugin.php(459) : runtime-created function

on line

1 Warning

: chmod(): No such file or directory in

/nfs/c08/h04/mnt/117165/domains/italyworkshops.com/html/wp-includes/plugin.php(466) : runtime-created function

on line

1 Warning

: chmod(): No such file or directory in

/nfs/c08/h04/mnt/117165/domains/italyworkshops.com/html/wp-includes/plugin.php(471) : runtime-created function

on line

1 Warning

: chmod(): No such file or directory in

/nfs/c08/h04/mnt/117165/domains/italyworkshops.com/html/wp-includes/plugin.php(477) : runtime-created function

on line

1 Warning

: chmod(): No such file or directory in

/nfs/c08/h04/mnt/117165/domains/italyworkshops.com/html/wp-includes/plugin.php(484) : runtime-created function

on line

1 Warning

: chmod(): No such file or directory in

/nfs/c08/h04/mnt/117165/domains/italyworkshops.com/html/wp-includes/plugin.php(452) : runtime-created function

on line

1 Warning

: chmod(): No such file or directory in

/nfs/c08/h04/mnt/117165/domains/italyworkshops.com/html/wp-includes/plugin.php(459) : runtime-created function

on line

1 Warning

: chmod(): No such file or directory in

/nfs/c08/h04/mnt/117165/domains/italyworkshops.com/html/wp-includes/plugin.php(466) : runtime-created function

on line

1 Warning

: chmod(): No such file or directory in

/nfs/c08/h04/mnt/117165/domains/italyworkshops.com/html/wp-includes/plugin.php(471) : runtime-created function

on line

1 Warning

: chmod(): No such file or directory in

/nfs/c08/h04/mnt/117165/domains/italyworkshops.com/html/wp-includes/plugin.php(477) : runtime-created function

on line

1 Warning

: chmod(): No such file or directory in

/nfs/c08/h04/mnt/117165/domains/italyworkshops.com/html/wp-includes/plugin.php(484) : runtime-created function

on line

1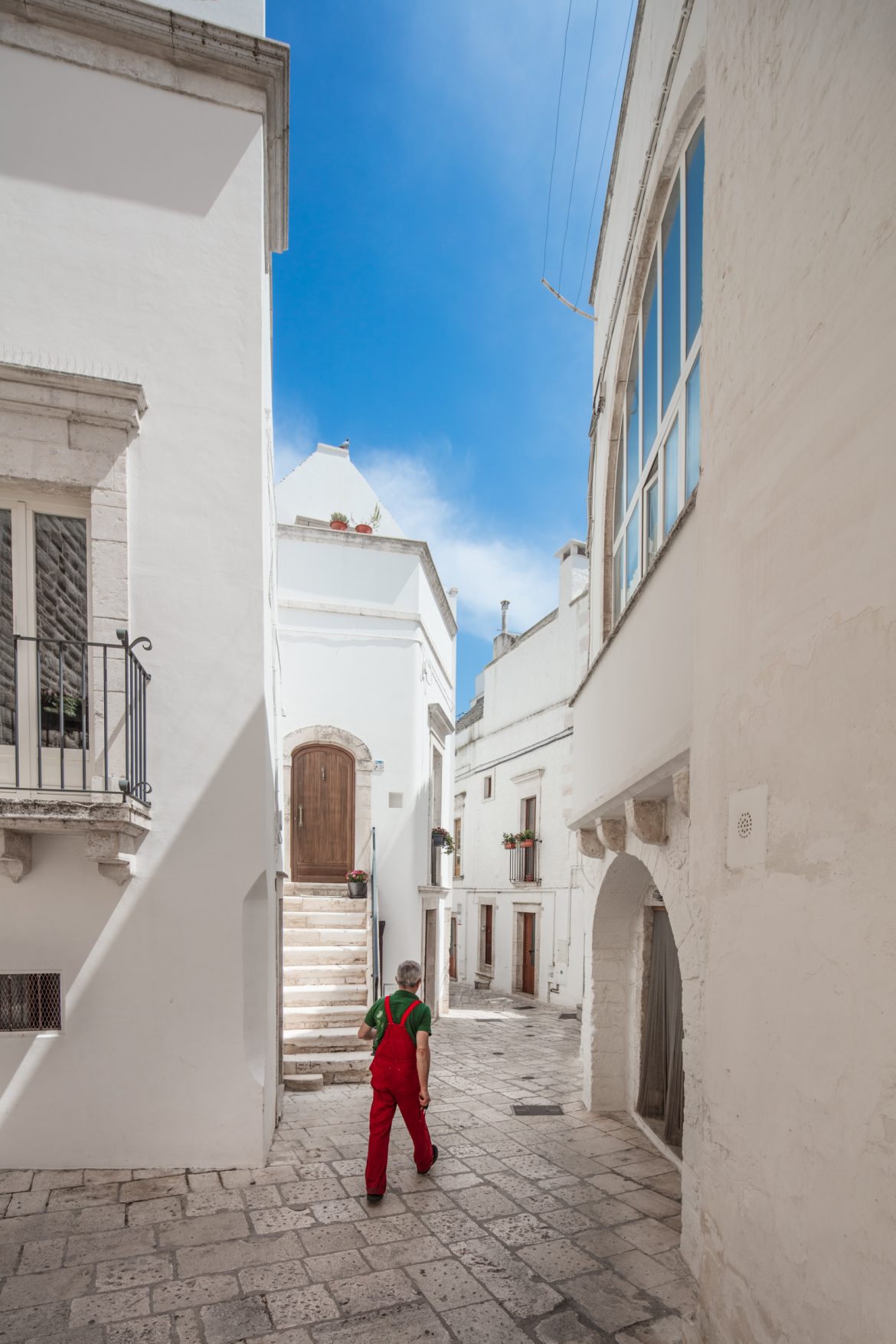 The first time I wandered into the region of Puglia, on the heel of Italy's boot,  I was drawn by the Trulli houses, the cone shaped stone houses and barns.  I had seen pictures and just couldn't believe this was in Italy, the home of squared up palazzi and castelli.  Italians architects did curves?  Sure enough, but not so much architects as 17th century peasants, making practical use of the white limestone stone and tufa that defines this region.  
Once in Puglia I was trapped… captivated by the whiteness of the towns.  Here, everything is made of the local white limestone, including the streets.  So the light bounces up onto walls like a giant "fill-light" everywhere you look.  The heavy contrast of midday sun, practically everywhere else in the world, evens out and makes photographing at noon or at midnight something unique and special.  
This special bounced light is really apparent at midday, when normally the sunlight is so contrasty.  In the white towns of Locorotondo and Lecce, or Ostuni (actually called the White City), noon becomes a great time for street photography.  Also surprising to me was that after dark the street lamps make for great light and bounce around in the narrow streets opening up the shadows like nowhere else I've photographed.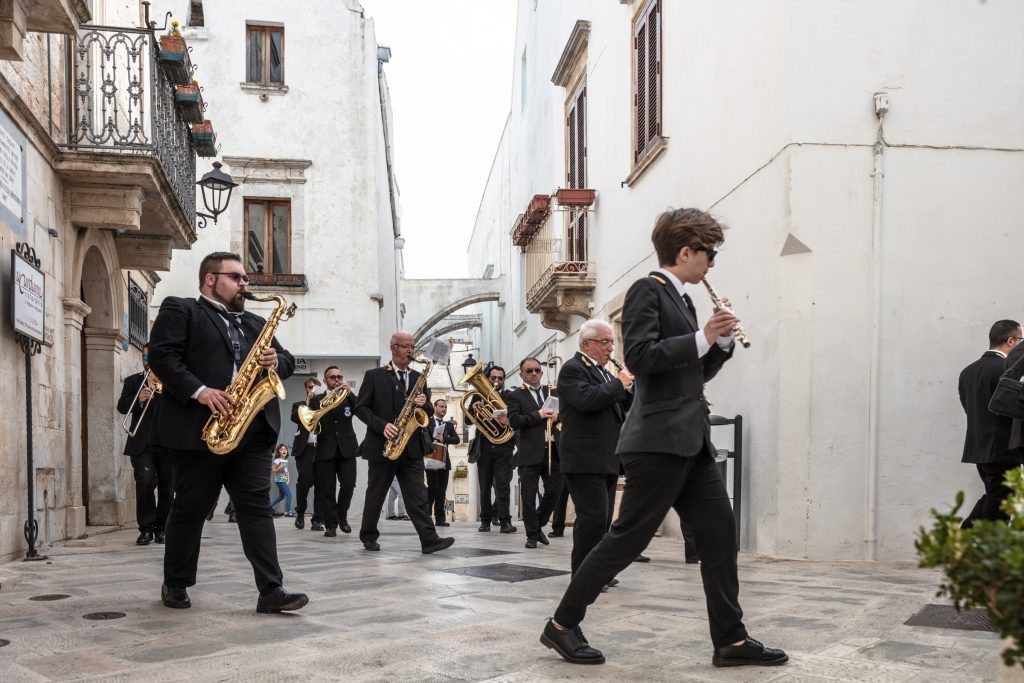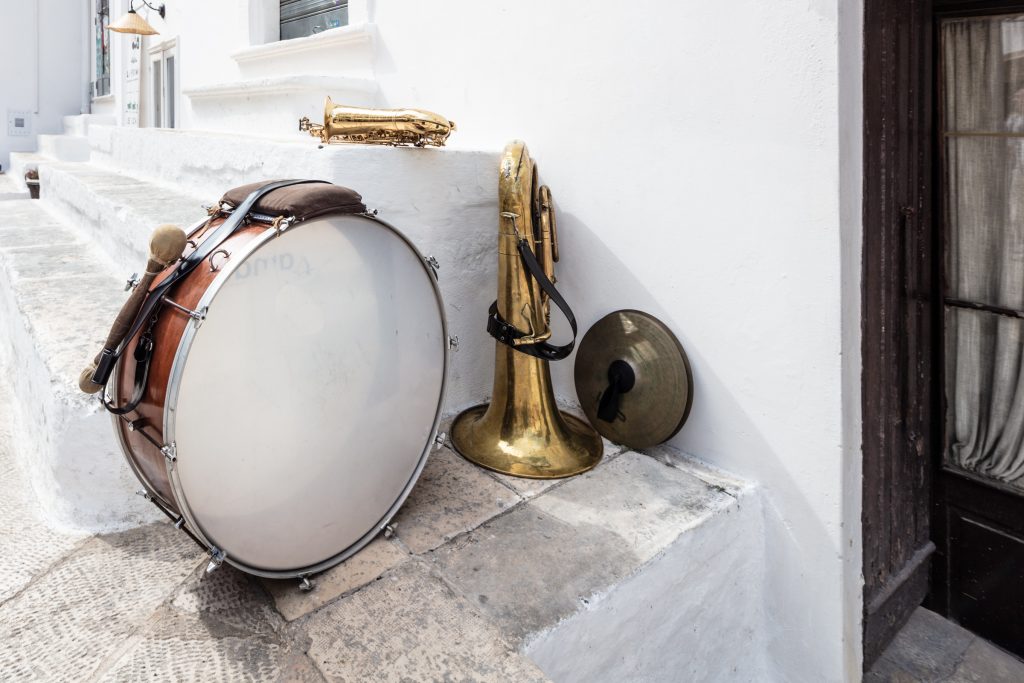 I've spent lots of time in narrow Italian streets in the north over the past 40 years but this is something special. Don't expect the pure whites of Santorini, Pugia still has that nice "dirtiness" and rawness I love about Italy. 
Warning
: chmod(): No such file or directory in
/nfs/c08/h04/mnt/117165/domains/italyworkshops.com/html/wp-includes/plugin.php(452) : runtime-created function
on line
1
Warning
: chmod(): No such file or directory in
/nfs/c08/h04/mnt/117165/domains/italyworkshops.com/html/wp-includes/plugin.php(459) : runtime-created function
on line
1
Warning
: chmod(): No such file or directory in
/nfs/c08/h04/mnt/117165/domains/italyworkshops.com/html/wp-includes/plugin.php(466) : runtime-created function
on line
1
Warning
: chmod(): No such file or directory in
/nfs/c08/h04/mnt/117165/domains/italyworkshops.com/html/wp-includes/plugin.php(471) : runtime-created function
on line
1
Warning
: chmod(): No such file or directory in
/nfs/c08/h04/mnt/117165/domains/italyworkshops.com/html/wp-includes/plugin.php(477) : runtime-created function
on line
1
Warning
: chmod(): No such file or directory in
/nfs/c08/h04/mnt/117165/domains/italyworkshops.com/html/wp-includes/plugin.php(484) : runtime-created function
on line
1
Warning
: chmod(): No such file or directory in
/nfs/c08/h04/mnt/117165/domains/italyworkshops.com/html/wp-includes/plugin.php(452) : runtime-created function
on line
1
Warning
: chmod(): No such file or directory in
/nfs/c08/h04/mnt/117165/domains/italyworkshops.com/html/wp-includes/plugin.php(459) : runtime-created function
on line
1
Warning
: chmod(): No such file or directory in
/nfs/c08/h04/mnt/117165/domains/italyworkshops.com/html/wp-includes/plugin.php(466) : runtime-created function
on line
1
Warning
: chmod(): No such file or directory in
/nfs/c08/h04/mnt/117165/domains/italyworkshops.com/html/wp-includes/plugin.php(471) : runtime-created function
on line
1
Warning
: chmod(): No such file or directory in
/nfs/c08/h04/mnt/117165/domains/italyworkshops.com/html/wp-includes/plugin.php(477) : runtime-created function
on line
1
Warning
: chmod(): No such file or directory in
/nfs/c08/h04/mnt/117165/domains/italyworkshops.com/html/wp-includes/plugin.php(484) : runtime-created function
on line
1
Newer
Dutch Photographer Wendy Janssen in the Dolomites
Warning
: chmod(): No such file or directory in
/nfs/c08/h04/mnt/117165/domains/italyworkshops.com/html/wp-includes/plugin.php(452) : runtime-created function
on line
1
Warning
: chmod(): No such file or directory in
/nfs/c08/h04/mnt/117165/domains/italyworkshops.com/html/wp-includes/plugin.php(459) : runtime-created function
on line
1
Warning
: chmod(): No such file or directory in
/nfs/c08/h04/mnt/117165/domains/italyworkshops.com/html/wp-includes/plugin.php(466) : runtime-created function
on line
1
Warning
: chmod(): No such file or directory in
/nfs/c08/h04/mnt/117165/domains/italyworkshops.com/html/wp-includes/plugin.php(471) : runtime-created function
on line
1
Warning
: chmod(): No such file or directory in
/nfs/c08/h04/mnt/117165/domains/italyworkshops.com/html/wp-includes/plugin.php(477) : runtime-created function
on line
1
Warning
: chmod(): No such file or directory in
/nfs/c08/h04/mnt/117165/domains/italyworkshops.com/html/wp-includes/plugin.php(484) : runtime-created function
on line
1
Older
Matera, The Most Magical Hill-town in Italy

Warning: chmod(): No such file or directory in /nfs/c08/h04/mnt/117165/domains/italyworkshops.com/html/wp-includes/plugin.php(452) : runtime-created function on line 1

Warning: chmod(): No such file or directory in /nfs/c08/h04/mnt/117165/domains/italyworkshops.com/html/wp-includes/plugin.php(459) : runtime-created function on line 1

Warning: chmod(): No such file or directory in /nfs/c08/h04/mnt/117165/domains/italyworkshops.com/html/wp-includes/plugin.php(466) : runtime-created function on line 1

Warning: chmod(): No such file or directory in /nfs/c08/h04/mnt/117165/domains/italyworkshops.com/html/wp-includes/plugin.php(471) : runtime-created function on line 1

Warning: chmod(): No such file or directory in /nfs/c08/h04/mnt/117165/domains/italyworkshops.com/html/wp-includes/plugin.php(477) : runtime-created function on line 1

Warning: chmod(): No such file or directory in /nfs/c08/h04/mnt/117165/domains/italyworkshops.com/html/wp-includes/plugin.php(484) : runtime-created function on line 1



Warning: chmod(): No such file or directory in /nfs/c08/h04/mnt/117165/domains/italyworkshops.com/html/wp-includes/plugin.php(452) : runtime-created function on line 1

Warning: chmod(): No such file or directory in /nfs/c08/h04/mnt/117165/domains/italyworkshops.com/html/wp-includes/plugin.php(459) : runtime-created function on line 1

Warning: chmod(): No such file or directory in /nfs/c08/h04/mnt/117165/domains/italyworkshops.com/html/wp-includes/plugin.php(466) : runtime-created function on line 1

Warning: chmod(): No such file or directory in /nfs/c08/h04/mnt/117165/domains/italyworkshops.com/html/wp-includes/plugin.php(471) : runtime-created function on line 1

Warning: chmod(): No such file or directory in /nfs/c08/h04/mnt/117165/domains/italyworkshops.com/html/wp-includes/plugin.php(477) : runtime-created function on line 1

Warning: chmod(): No such file or directory in /nfs/c08/h04/mnt/117165/domains/italyworkshops.com/html/wp-includes/plugin.php(484) : runtime-created function on line 1


Warning: chmod(): No such file or directory in /nfs/c08/h04/mnt/117165/domains/italyworkshops.com/html/wp-includes/plugin.php(452) : runtime-created function on line 1

Warning: chmod(): No such file or directory in /nfs/c08/h04/mnt/117165/domains/italyworkshops.com/html/wp-includes/plugin.php(459) : runtime-created function on line 1

Warning: chmod(): No such file or directory in /nfs/c08/h04/mnt/117165/domains/italyworkshops.com/html/wp-includes/plugin.php(466) : runtime-created function on line 1

Warning: chmod(): No such file or directory in /nfs/c08/h04/mnt/117165/domains/italyworkshops.com/html/wp-includes/plugin.php(471) : runtime-created function on line 1

Warning: chmod(): No such file or directory in /nfs/c08/h04/mnt/117165/domains/italyworkshops.com/html/wp-includes/plugin.php(477) : runtime-created function on line 1

Warning: chmod(): No such file or directory in /nfs/c08/h04/mnt/117165/domains/italyworkshops.com/html/wp-includes/plugin.php(484) : runtime-created function on line 1

Warning: chmod(): No such file or directory in /nfs/c08/h04/mnt/117165/domains/italyworkshops.com/html/wp-includes/plugin.php(452) : runtime-created function on line 1

Warning: chmod(): No such file or directory in /nfs/c08/h04/mnt/117165/domains/italyworkshops.com/html/wp-includes/plugin.php(459) : runtime-created function on line 1

Warning: chmod(): No such file or directory in /nfs/c08/h04/mnt/117165/domains/italyworkshops.com/html/wp-includes/plugin.php(466) : runtime-created function on line 1

Warning: chmod(): No such file or directory in /nfs/c08/h04/mnt/117165/domains/italyworkshops.com/html/wp-includes/plugin.php(471) : runtime-created function on line 1

Warning: chmod(): No such file or directory in /nfs/c08/h04/mnt/117165/domains/italyworkshops.com/html/wp-includes/plugin.php(477) : runtime-created function on line 1

Warning: chmod(): No such file or directory in /nfs/c08/h04/mnt/117165/domains/italyworkshops.com/html/wp-includes/plugin.php(484) : runtime-created function on line 1

Warning: chmod(): No such file or directory in /nfs/c08/h04/mnt/117165/domains/italyworkshops.com/html/wp-includes/plugin.php(452) : runtime-created function on line 1

Warning: chmod(): No such file or directory in /nfs/c08/h04/mnt/117165/domains/italyworkshops.com/html/wp-includes/plugin.php(459) : runtime-created function on line 1

Warning: chmod(): No such file or directory in /nfs/c08/h04/mnt/117165/domains/italyworkshops.com/html/wp-includes/plugin.php(466) : runtime-created function on line 1

Warning: chmod(): No such file or directory in /nfs/c08/h04/mnt/117165/domains/italyworkshops.com/html/wp-includes/plugin.php(471) : runtime-created function on line 1

Warning: chmod(): No such file or directory in /nfs/c08/h04/mnt/117165/domains/italyworkshops.com/html/wp-includes/plugin.php(477) : runtime-created function on line 1

Warning: chmod(): No such file or directory in /nfs/c08/h04/mnt/117165/domains/italyworkshops.com/html/wp-includes/plugin.php(484) : runtime-created function on line 1

Warning: chmod(): No such file or directory in /nfs/c08/h04/mnt/117165/domains/italyworkshops.com/html/wp-includes/plugin.php(452) : runtime-created function on line 1

Warning: chmod(): No such file or directory in /nfs/c08/h04/mnt/117165/domains/italyworkshops.com/html/wp-includes/plugin.php(459) : runtime-created function on line 1

Warning: chmod(): No such file or directory in /nfs/c08/h04/mnt/117165/domains/italyworkshops.com/html/wp-includes/plugin.php(466) : runtime-created function on line 1

Warning: chmod(): No such file or directory in /nfs/c08/h04/mnt/117165/domains/italyworkshops.com/html/wp-includes/plugin.php(471) : runtime-created function on line 1

Warning: chmod(): No such file or directory in /nfs/c08/h04/mnt/117165/domains/italyworkshops.com/html/wp-includes/plugin.php(477) : runtime-created function on line 1

Warning: chmod(): No such file or directory in /nfs/c08/h04/mnt/117165/domains/italyworkshops.com/html/wp-includes/plugin.php(484) : runtime-created function on line 1

Warning: chmod(): No such file or directory in /nfs/c08/h04/mnt/117165/domains/italyworkshops.com/html/wp-includes/plugin.php(452) : runtime-created function on line 1

Warning: chmod(): No such file or directory in /nfs/c08/h04/mnt/117165/domains/italyworkshops.com/html/wp-includes/plugin.php(459) : runtime-created function on line 1

Warning: chmod(): No such file or directory in /nfs/c08/h04/mnt/117165/domains/italyworkshops.com/html/wp-includes/plugin.php(466) : runtime-created function on line 1

Warning: chmod(): No such file or directory in /nfs/c08/h04/mnt/117165/domains/italyworkshops.com/html/wp-includes/plugin.php(471) : runtime-created function on line 1

Warning: chmod(): No such file or directory in /nfs/c08/h04/mnt/117165/domains/italyworkshops.com/html/wp-includes/plugin.php(477) : runtime-created function on line 1

Warning: chmod(): No such file or directory in /nfs/c08/h04/mnt/117165/domains/italyworkshops.com/html/wp-includes/plugin.php(484) : runtime-created function on line 1

Warning: chmod(): No such file or directory in /nfs/c08/h04/mnt/117165/domains/italyworkshops.com/html/wp-includes/plugin.php(452) : runtime-created function on line 1

Warning: chmod(): No such file or directory in /nfs/c08/h04/mnt/117165/domains/italyworkshops.com/html/wp-includes/plugin.php(459) : runtime-created function on line 1

Warning: chmod(): No such file or directory in /nfs/c08/h04/mnt/117165/domains/italyworkshops.com/html/wp-includes/plugin.php(466) : runtime-created function on line 1

Warning: chmod(): No such file or directory in /nfs/c08/h04/mnt/117165/domains/italyworkshops.com/html/wp-includes/plugin.php(471) : runtime-created function on line 1

Warning: chmod(): No such file or directory in /nfs/c08/h04/mnt/117165/domains/italyworkshops.com/html/wp-includes/plugin.php(477) : runtime-created function on line 1

Warning: chmod(): No such file or directory in /nfs/c08/h04/mnt/117165/domains/italyworkshops.com/html/wp-includes/plugin.php(484) : runtime-created function on line 1

Warning: chmod(): No such file or directory in /nfs/c08/h04/mnt/117165/domains/italyworkshops.com/html/wp-includes/plugin.php(452) : runtime-created function on line 1

Warning: chmod(): No such file or directory in /nfs/c08/h04/mnt/117165/domains/italyworkshops.com/html/wp-includes/plugin.php(459) : runtime-created function on line 1

Warning: chmod(): No such file or directory in /nfs/c08/h04/mnt/117165/domains/italyworkshops.com/html/wp-includes/plugin.php(466) : runtime-created function on line 1

Warning: chmod(): No such file or directory in /nfs/c08/h04/mnt/117165/domains/italyworkshops.com/html/wp-includes/plugin.php(471) : runtime-created function on line 1

Warning: chmod(): No such file or directory in /nfs/c08/h04/mnt/117165/domains/italyworkshops.com/html/wp-includes/plugin.php(477) : runtime-created function on line 1

Warning: chmod(): No such file or directory in /nfs/c08/h04/mnt/117165/domains/italyworkshops.com/html/wp-includes/plugin.php(484) : runtime-created function on line 1

Warning: chmod(): No such file or directory in /nfs/c08/h04/mnt/117165/domains/italyworkshops.com/html/wp-includes/plugin.php(452) : runtime-created function on line 1

Warning: chmod(): No such file or directory in /nfs/c08/h04/mnt/117165/domains/italyworkshops.com/html/wp-includes/plugin.php(459) : runtime-created function on line 1

Warning: chmod(): No such file or directory in /nfs/c08/h04/mnt/117165/domains/italyworkshops.com/html/wp-includes/plugin.php(466) : runtime-created function on line 1

Warning: chmod(): No such file or directory in /nfs/c08/h04/mnt/117165/domains/italyworkshops.com/html/wp-includes/plugin.php(471) : runtime-created function on line 1

Warning: chmod(): No such file or directory in /nfs/c08/h04/mnt/117165/domains/italyworkshops.com/html/wp-includes/plugin.php(477) : runtime-created function on line 1

Warning: chmod(): No such file or directory in /nfs/c08/h04/mnt/117165/domains/italyworkshops.com/html/wp-includes/plugin.php(484) : runtime-created function on line 1

Warning: chmod(): No such file or directory in /nfs/c08/h04/mnt/117165/domains/italyworkshops.com/html/wp-includes/plugin.php(452) : runtime-created function on line 1

Warning: chmod(): No such file or directory in /nfs/c08/h04/mnt/117165/domains/italyworkshops.com/html/wp-includes/plugin.php(459) : runtime-created function on line 1

Warning: chmod(): No such file or directory in /nfs/c08/h04/mnt/117165/domains/italyworkshops.com/html/wp-includes/plugin.php(466) : runtime-created function on line 1

Warning: chmod(): No such file or directory in /nfs/c08/h04/mnt/117165/domains/italyworkshops.com/html/wp-includes/plugin.php(471) : runtime-created function on line 1

Warning: chmod(): No such file or directory in /nfs/c08/h04/mnt/117165/domains/italyworkshops.com/html/wp-includes/plugin.php(477) : runtime-created function on line 1

Warning: chmod(): No such file or directory in /nfs/c08/h04/mnt/117165/domains/italyworkshops.com/html/wp-includes/plugin.php(484) : runtime-created function on line 1

Warning
: chmod(): No such file or directory in
/nfs/c08/h04/mnt/117165/domains/italyworkshops.com/html/wp-includes/plugin.php(452) : runtime-created function
on line
1
Warning
: chmod(): No such file or directory in
/nfs/c08/h04/mnt/117165/domains/italyworkshops.com/html/wp-includes/plugin.php(459) : runtime-created function
on line
1
Warning
: chmod(): No such file or directory in
/nfs/c08/h04/mnt/117165/domains/italyworkshops.com/html/wp-includes/plugin.php(466) : runtime-created function
on line
1
Warning
: chmod(): No such file or directory in
/nfs/c08/h04/mnt/117165/domains/italyworkshops.com/html/wp-includes/plugin.php(471) : runtime-created function
on line
1
Warning
: chmod(): No such file or directory in
/nfs/c08/h04/mnt/117165/domains/italyworkshops.com/html/wp-includes/plugin.php(477) : runtime-created function
on line
1
Warning
: chmod(): No such file or directory in
/nfs/c08/h04/mnt/117165/domains/italyworkshops.com/html/wp-includes/plugin.php(484) : runtime-created function
on line
1