Amalfi Coast / Photo Tour & Workshop
8 days, 7 Nights      6-12 Guests     From $4150       October 6-12, 2020
---
Our 18th year on the Amalfi Coast!   How about a sun-drenched Mediterranean escape to make amazing photographs while you drink in the Italy's most beautiful gardens, fishing villages – both famous and unknown, stunning seascapes and vistas.  And don't forget the homemade Limoncello.
And yes!  Your partner will love it too…photographer or not!
Ravello is our chosen headquarters, one of Italy's most beautiful villages. Perched 1,000 feet above the azure coast, Ravello is blessed with lush gardens, quiet lanes and commanding views. Our 4-star hotel is steps from the piazza. Along with famous towns of Amalfi and Positano, we'll see Drake's favorite "quiet" villages… Atrani, Praiano, Furore, and climb to overlooks in the evening hours. And for the historians, we've scheduled a special tour of Pompeii, buried for 2,000 years.
We end our week with two lazy days on the sunny island of Capri. Ahhh…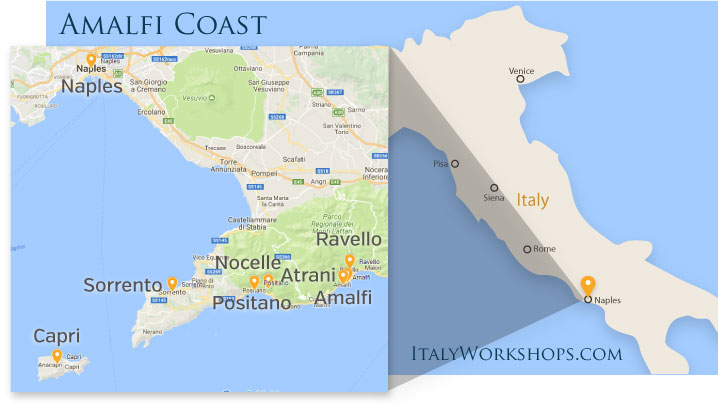 Pre-Tour: Fly into Naples or Rome and travel by train to charming Sorrento, gateway to the Amalfi Coast. Arrive in Sorrento a day or two before the workshop and stay in one of our recommended Sorrento hotels.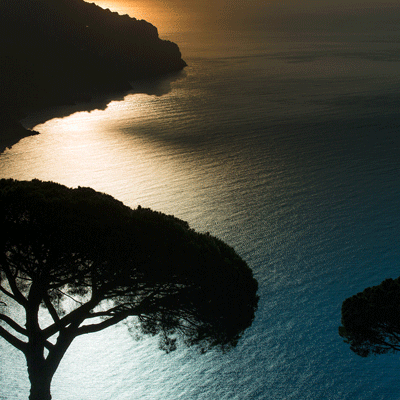 Day 1
| Sorrento
12:00 Meet up in  Sorrento.
Private tour of historic Pompeii, buried by ash in 79AD.
Travel together to Ravello, 1,000 feet above the Amalfi coast with epic views and a charm beyond description.
Check into our 4-star hotel just steps from the piazza.
Welcome dinner in Ravello.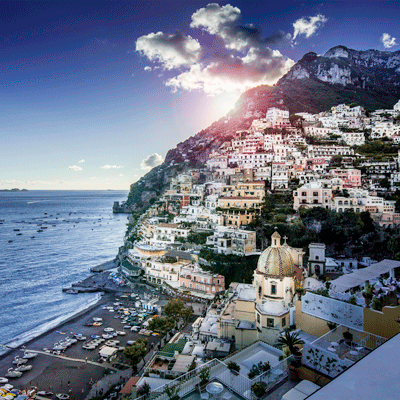 Day 2
| Positano / Nocelle
Visit the seaside town of Positano with its beachfront, historic cathedral, shopping and great food.
Travel up to lofty Nocelle for views of the Positano coast.
You will have an amazing dinner with even more amazing views!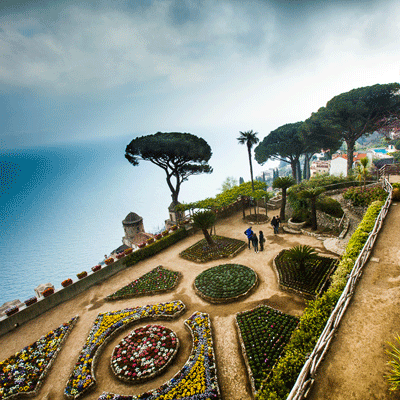 Day 3
| Ravello
Workshop in the ancient gardens of Villa Rufolo, overlooking the Amalfi Coast.
Free time to enjoy and photograph Ravello's charms and world-class shopping.
Walkabout to the towering gardens of Villa Cimbrone.
Dinner on the terrace at Villa Maria or Villa Cimbrone.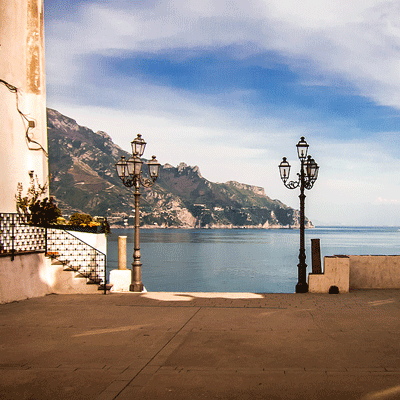 Day 4
| Atrani
Workshop and review images from previous days.
Travel to the un-trampled village of Atrani and climb though its maze of walkways and stairs.
Enjoy lunch in the piazza with the locals.
Optional side trips to be determined.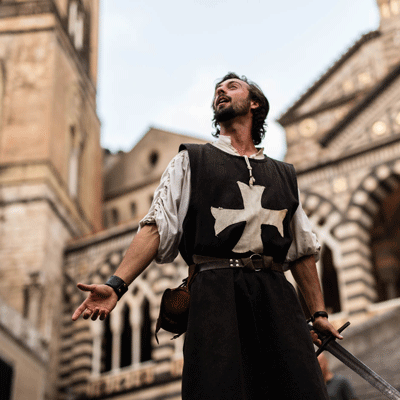 Day 5
| Amalfi
Visit the town of Amalfi, an ancient navel powerhouse, with its grand cathedral and charming narrow streets.
Travel by sea to explore some of Drake's favorite quiet towns and overlooks along the coast, Praiano and perhaps Furore.
After dinner in Ravello, review the day's images on-screen with drinks on the veranda.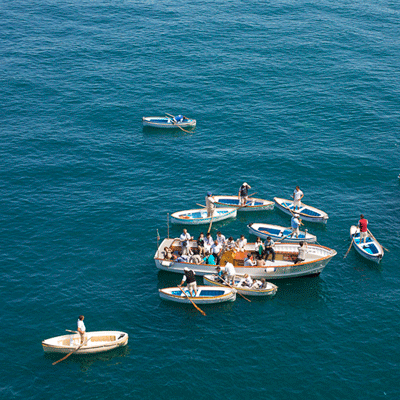 Day 6-7 
| Capri (2 nights)
Ferry to the island of Capri.  We'll stay in the hilltop town of Anacapri with its white-washed villas and dramatic overlooks.
We'll enjoy seascape views that have drawn the rich and famous since Roman times. If the weather is warm, we can explore the island by water, including the Blue Grotto.
In the quiet evening and morning hours the lower town of Capri beckons with its waterfront photographs and, of course, some world-class shopping and sidewalk cafè time.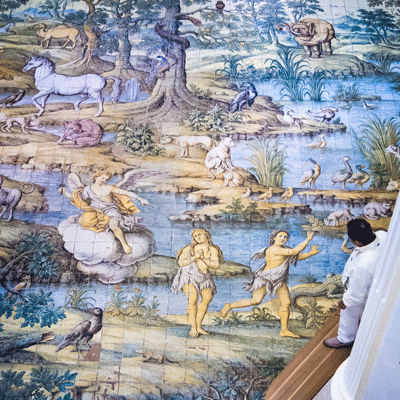 Day 8
| Naples
Final workshop breakfast and review of the week's great images.
Check out and travel to Naples by ferry. Say goodbye at the modern Naples train station (we will help you with train tickets to your departure airport).
The Workshop
Our curriculum has been tweaked and pruned over 18 years to offer you only the essential tools you need. We recognize that we only have a week with you… no time to impress you with our expertise or bore you with technical trivia.
Workshop Sessions
Classroom time (one-hour sessions) is devoted to reviewing your daily images on-screen and offering helpful suggestions. In the field, our discussions center around better composition and finding great light. And of course, answering your technical questions and helping you master your own equipment.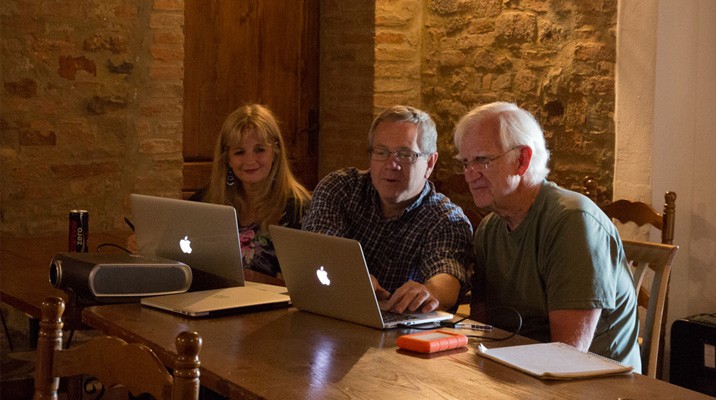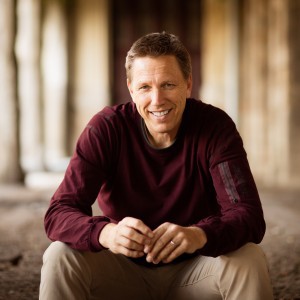 Workshop Leader
Drake Busath, the originator of Italy Workshops, has 30 years experience living and traveling in Italy. Drake speaks Italian and has guided hundreds of photographers of every skill level to favorite regions all over Italy.
He will share what he's learned over 35 years photographing Italy and encourage you to identify and develop your own personal style while in Italy. More about Drake
Trip Manager
A trip manager accompanies each group with 8 guests or more. This person anticipates all our travel needs as a group (i.e., restaurant reservations, ferry tickets, gelato, snacks for your room, etc.).
An experienced trip manager allows the instructor to instruct full-time instead of chasing down logistics. This is your guarantee of a safe and smooth week of learning.
Special Guest Instructor
We make it a point to invite friends with special talents as guests on the workshops, so you never know who you'll be rubbing shoulders with.
World-class photographers who have joined us include landscape specialist and gallery owner Randy Collier, portraitists Michael Taylor and Tim Walden, editing software guru Kevin Kubota, landscape and wildlife expert Dennis Hammon, editorial photographer Jeff Allred, nightscape specialist Royce Bair, Italian pro Luigi Barbano and writer Dr. Ray Ownbey.
Ask if there will be a special guest attending your workshop.
Italy Workshops offices are located in Salt Lake City, UT in the historic downtown mansion of Busath Studio & Gardens.  Please feel free to stop in and visit.
We are open and reachable by phone Tues-Friday 10AM to 6PM MST.  801-364-6645
Sheryl Bird handles all registrations from her office in Boston, MA.  Sheryl is reachable by email at info@italyworkshops.com
Frequently Asked Questions
Any camera is acceptable, including smartphones. Automation for the beginner can make the trip fun and stress-free and, at times, increase creativity.
Participants who are very comfortable with their computer are encouraged to bring it along. Editing your images during the week can enhance your learning experience. We currently use Adobe Lightroom CC for our on-screen reviews sessions. You will learn new LR editing methods and workflow shortcuts during classroom reviews and critique. Even if you've used Lightroom, we highly recommend brushing up before the workshop by watching the free tutorials available on Adobe.com.
If you are not fluent downloading and managing digital images, you might consider leaving the computer behind and just focusing on camera work. You can still submit images daily for review, and perhaps find more time to learn about your camera and develop a discerning eye. (Not to mention sleep happily while others are editing into the night)
Observer Participants may be beginner photographers, attending all instruction and field trips, but not required to submit photos for critique. This is a fun way to learn without pressure. You'll still photograph the same things and we'll still want to review your work on the back of your camera and offer individual instruction in the field.
All Skill Levels Are Welcome
Beginner and Intermediate Photographers
We enjoy helping you master those buttons and menus on your camera! Short, daily field lessons will tackle one technique at time. Further individual attention in the field helps you lock in the concepts.
Any camera is welcome (yes, even smartphones!).
Non-photographer partners are welcome to sit in on all discussions and participate at their own level of interest. (Beginners often make some of the best images we see!)
Advanced Photographers
As an advanced photographer you'll be encouraged to:
Build your portfolio, adding strong images every single day of the trip.

Focus on style development, lighting and composition.

Work in "concentrations" to produce a collection of work suitable for a gallery showing or book project.
You will return home with a body of work suitable for a gallery showing or book project that will express your personal style, as opposed to a random collection of travel photos.
Amalfi Coast Photo Tour Reviews
Amalfi Coast Photo Tour Dates
Amalfi Coast 
| Oct 14-21, 2020
---
Meet: Sorrento, Italy*
Depart: Naples, Italy
Tour Group Size: 6-12 People
Price
$4150 / Participant
$500 / Single room supplement
* Tours start in Sorrento, Italy, and ends in Naples, Italy. You can fly into in any major Italian city, but Naples or Rome is recommended. 
Included:
Travel
Daily excursions and all ground and sea transportation starting in Sorrento and ending in Naples.  Also included is transportation to Capri.
Hotels
5 nights accommodations at 4-star hotel in the historic center of Ravello, Italy.
2 nights on the island of Capri.
If you wish to share a room, we'll do our best to find you a roommate. Register Early, rooms are assigned by registration date.
Suites and balcony rooms may be available at extra cost, upon request.
Meals
Included are all breakfasts, 2 dinners, 2 lunches.
Workshop
Workshop tuition is included in the tour price.
---
Not Included:
Airfare
Trip insurance (recommended)
*Also not included are crowds of tourists, slow moving tour guides and lectures on the history of plague 🙂
Discounts:
$100 off per person having attended a previous Italy Workshops event 6 days or longer.
Payment Schedule
A reservation fee of $500 will hold your spot
50% of balance is due 120 days prior to your workshop
The balance of payment is due 60 days prior to your workshop
Rooms
We use hotels rated 3 or 4 stars, always with private bath. Rooms are assigned in order of reservations received, so early signup is recommended. Ask about premium rooms, at some workshop locations for an additional supplement charge.
Single Supplements
Fees are based on double occupancy. Single supplement may be added for participants who wish to have a private room to themselves. Supplements vary depending on the hotels used. If you are traveling alone and wish to share a room with another participant, please let us know and we'll do our best to match you with a roommate.
Cancellation fee schedule 
There is no charge for cancellation within ten days of booking your workshop.
After ten days, reservation fees are non-refundable but may be applied to a future workshop event.
Cancellations less than 90 days prior to workshop incur a cancellation fee of 25% of the total workshop cost.
Cancellations less than 45 days prior to workshop incur a cancellation fee of 50% of the total workshop cost.
Cancellations less than 15 days prior to workshop incur a cancellation fee of 75% of the total workshop cost.
No partial refunds will be given for unused portions of a workshop.
We highly recommend that all workshop participants purchase trip cancellation insurance independently.
Cancelled Workshops
Italy Workshops reserves the right to cancel any trip for any reason whatsoever, including insufficient signup, logistical problems that may impede a workshop, hotel closures or acts of God. (We have never yet had to cancel a workshop.)
Refund of all fees paid shall release Italy Workshops from any further liability. Italy Workshops is not responsible for any expenses incurred by workshop participants in preparing for a cancelled workshop. In the case of insufficient signup to make a workshop feasible, notice and refund will be sent 120 days prior to the workshop.
Photographic Release
Italy Workshops reserves the right to photograph and film its trips in entirety. Participants should be aware that images of them may be used for promotional purposes or joint marketing efforts with third parties, without remuneration.
Reserve Your Experience Today
Group sizes are extremely limited. Please reserve early.
You can reserve your spot by filling out the form below,
or by calling us at 801-364-6645