Warning
: chmod(): No such file or directory in
/nfs/c08/h04/mnt/117165/domains/italyworkshops.com/html/wp-includes/plugin.php(452) : runtime-created function
on line
1
Warning
: chmod(): No such file or directory in
/nfs/c08/h04/mnt/117165/domains/italyworkshops.com/html/wp-includes/plugin.php(459) : runtime-created function
on line
1
Warning
: chmod(): No such file or directory in
/nfs/c08/h04/mnt/117165/domains/italyworkshops.com/html/wp-includes/plugin.php(466) : runtime-created function
on line
1
Warning
: chmod(): No such file or directory in
/nfs/c08/h04/mnt/117165/domains/italyworkshops.com/html/wp-includes/plugin.php(471) : runtime-created function
on line
1
Warning
: chmod(): No such file or directory in
/nfs/c08/h04/mnt/117165/domains/italyworkshops.com/html/wp-includes/plugin.php(477) : runtime-created function
on line
1
Warning
: chmod(): No such file or directory in
/nfs/c08/h04/mnt/117165/domains/italyworkshops.com/html/wp-includes/plugin.php(484) : runtime-created function
on line
1
Warning
: chmod(): No such file or directory in
/nfs/c08/h04/mnt/117165/domains/italyworkshops.com/html/wp-includes/plugin.php(452) : runtime-created function
on line
1
Warning
: chmod(): No such file or directory in
/nfs/c08/h04/mnt/117165/domains/italyworkshops.com/html/wp-includes/plugin.php(459) : runtime-created function
on line
1
Warning
: chmod(): No such file or directory in
/nfs/c08/h04/mnt/117165/domains/italyworkshops.com/html/wp-includes/plugin.php(466) : runtime-created function
on line
1
Warning
: chmod(): No such file or directory in
/nfs/c08/h04/mnt/117165/domains/italyworkshops.com/html/wp-includes/plugin.php(471) : runtime-created function
on line
1
Warning
: chmod(): No such file or directory in
/nfs/c08/h04/mnt/117165/domains/italyworkshops.com/html/wp-includes/plugin.php(477) : runtime-created function
on line
1
Warning
: chmod(): No such file or directory in
/nfs/c08/h04/mnt/117165/domains/italyworkshops.com/html/wp-includes/plugin.php(484) : runtime-created function
on line
1
Warning
: chmod(): No such file or directory in
/nfs/c08/h04/mnt/117165/domains/italyworkshops.com/html/wp-includes/plugin.php(452) : runtime-created function
on line
1
Warning
: chmod(): No such file or directory in
/nfs/c08/h04/mnt/117165/domains/italyworkshops.com/html/wp-includes/plugin.php(459) : runtime-created function
on line
1
Warning
: chmod(): No such file or directory in
/nfs/c08/h04/mnt/117165/domains/italyworkshops.com/html/wp-includes/plugin.php(466) : runtime-created function
on line
1
Warning
: chmod(): No such file or directory in
/nfs/c08/h04/mnt/117165/domains/italyworkshops.com/html/wp-includes/plugin.php(471) : runtime-created function
on line
1
Warning
: chmod(): No such file or directory in
/nfs/c08/h04/mnt/117165/domains/italyworkshops.com/html/wp-includes/plugin.php(477) : runtime-created function
on line
1
Warning
: chmod(): No such file or directory in
/nfs/c08/h04/mnt/117165/domains/italyworkshops.com/html/wp-includes/plugin.php(484) : runtime-created function
on line
1
Warning
: chmod(): No such file or directory in
/nfs/c08/h04/mnt/117165/domains/italyworkshops.com/html/wp-includes/plugin.php(452) : runtime-created function
on line
1
Warning
: chmod(): No such file or directory in
/nfs/c08/h04/mnt/117165/domains/italyworkshops.com/html/wp-includes/plugin.php(459) : runtime-created function
on line
1
Warning
: chmod(): No such file or directory in
/nfs/c08/h04/mnt/117165/domains/italyworkshops.com/html/wp-includes/plugin.php(466) : runtime-created function
on line
1
Warning
: chmod(): No such file or directory in
/nfs/c08/h04/mnt/117165/domains/italyworkshops.com/html/wp-includes/plugin.php(471) : runtime-created function
on line
1
Warning
: chmod(): No such file or directory in
/nfs/c08/h04/mnt/117165/domains/italyworkshops.com/html/wp-includes/plugin.php(477) : runtime-created function
on line
1
Warning
: chmod(): No such file or directory in
/nfs/c08/h04/mnt/117165/domains/italyworkshops.com/html/wp-includes/plugin.php(484) : runtime-created function
on line
1
Warning
: chmod(): No such file or directory in
/nfs/c08/h04/mnt/117165/domains/italyworkshops.com/html/wp-includes/plugin.php(452) : runtime-created function
on line
1
Warning
: chmod(): No such file or directory in
/nfs/c08/h04/mnt/117165/domains/italyworkshops.com/html/wp-includes/plugin.php(459) : runtime-created function
on line
1
Warning
: chmod(): No such file or directory in
/nfs/c08/h04/mnt/117165/domains/italyworkshops.com/html/wp-includes/plugin.php(466) : runtime-created function
on line
1
Warning
: chmod(): No such file or directory in
/nfs/c08/h04/mnt/117165/domains/italyworkshops.com/html/wp-includes/plugin.php(471) : runtime-created function
on line
1
Warning
: chmod(): No such file or directory in
/nfs/c08/h04/mnt/117165/domains/italyworkshops.com/html/wp-includes/plugin.php(477) : runtime-created function
on line
1
Warning
: chmod(): No such file or directory in
/nfs/c08/h04/mnt/117165/domains/italyworkshops.com/html/wp-includes/plugin.php(484) : runtime-created function
on line
1
Bologna | A Foto Tour for Foodies
Bologna is for foodies.  It's called "La Grassa" (the fat one) for a reason.  Think tortellini, lasagna and rago alla bolognese. Many great photographers call Bologna their favorite Italian city for its colorful architecture, miles of arcades covering bustling sidewalks.  Perhaps also because it's a place a photographer can escape mainstream tourism and and be immersed in a vibrant and metropolitan town. In Bologna we'll spend a day at a renowned cooking school learning some new tricks.  We'll eat at famous established restaurants along with inventive newcomers.  Taste wines of the region along with famous delights of the Emilia Romagna region: prosciutto, parmigiano and balsamico. For the second half of our visit we move our headquarters into the countryside to explore the rustic side of Romagna and meet chefs  you'd likely never find on your own. Partners are welcomed on this tour, designed as a relaxed holiday where food meets photography, with plenty of free time to find your own groove and explore your passions.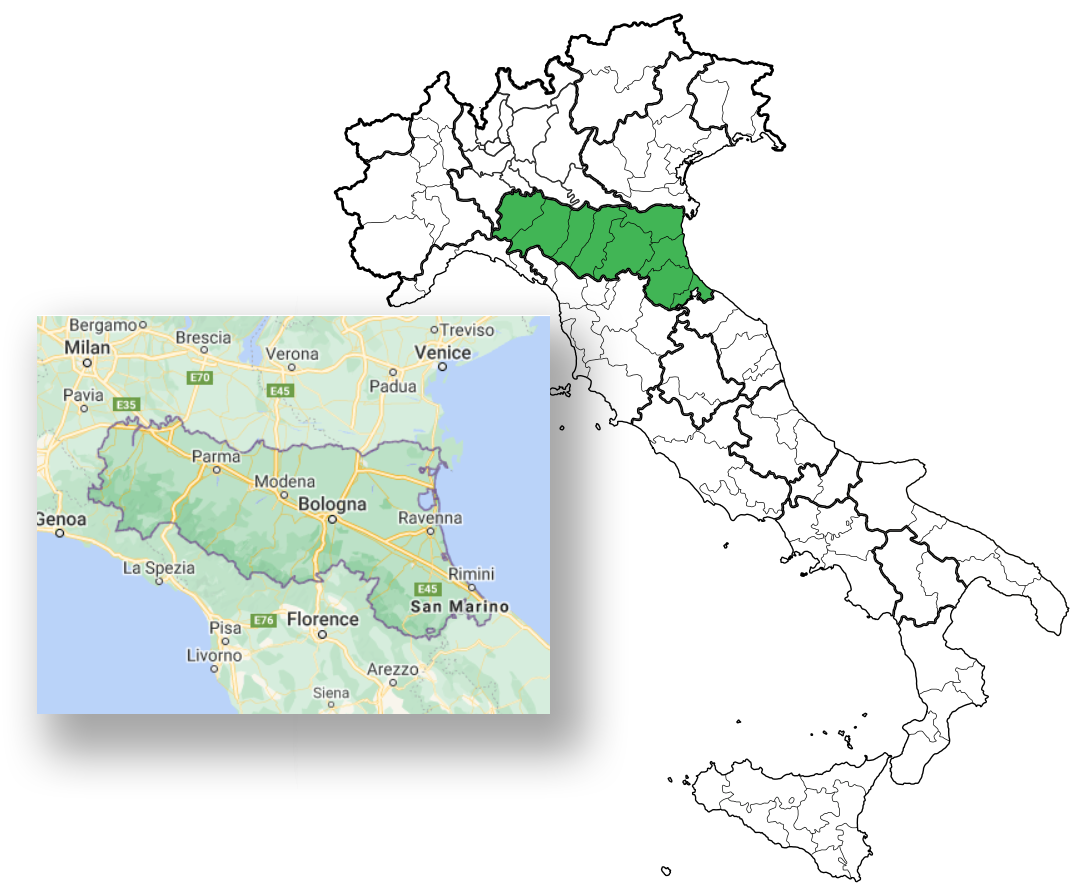 Pre-Workshop: We recommend you arrive a day or two early to acclimate to the time zone.  You can fly directly into Bologna or choose nearby Florence airport for an easy entry.   Venice is also just an hour or two away by train and makes a fun extension to your travel afterward.  We'll be happy to suggest hotels and travel tips for your pre and post workshop days.    
Photo Workshop & Cooking Classes
 Unlike average photo tours we will spend some time learning in an informal classroom setting.  We usually do this before or after lunch for an hour or so.  In addition, field discussions are carefully planned with printed materials to help you remember what you learned.
In the field, Drake and Gabriele will be available to help you master the techniques we've demonstrated in the classroom.
Our cooking experiences (strictly for fun) will be led by professional local chefs.  You'll shop for ingredients, prep and cook the meal that we can all enjoy that day.  In addition we'll tour and taste producers of local wines, oils, balsamic, prosciutto and cheeses from the region.  Finally, Gabriele will treat us to his favorite local haunts so we can eat where the locals eat.
Group Time and Free Time
We gather to review images 2 or 3 times during the week.  This gives you a chance to see what the other guests are seeing and it sparks ideas.  It also allows Drake to offer suggestions and show Lightroom and Photoshop enhancements for your work.
Two cooking experiences will get you hands-on in the kitchen, learning nuances of pasta making and classic Emilia Romagna recipes.
Hey Partners… All classes are optional so you won't feel captive to the schedule.  Plus we build in plenty of free time because we know the value of "me time".
Day 1  Bologna
Introduction to the city of Bologna with a local guide
Street shooting discussion and a fun assignment
Free time to dive in to the porticos of Bologna
Briefing at the hotel about our food and foto agenda for the week
Welcome dinner at Da Serhei
Overnight: Bologna, Hotel Commercianti
Day 2   Modena / Reggio Emilia
AM    Drive out of Bologna to Montachiarugolo for a visit to a famous Parmigiano producer
Tasting local products and photographing locals along the way
PM    Head to Modena for a walk in the historic center of town, Bologna's medieval rival
Continue to Sorbara for a visit to an historic "acetaia", producer of balsamic vinegars so famous in this region.
Dinner under the arcades of the acetate with typical Modena dishes
Overnight: Bologna, Hotel Commercianti
Day 3   Bologna
Walk and photograph in the "old market" of Bologna's historic center
Lunch in the oldest Osteria of the city
Free time to explore Bologna, armed with Gabriele's suggestions for fascinating churches, towers and galleries
Dinner at local favorite Ristorante Diana
Overnight: La Locanda di Bagnara
Day 4   Ravenna
Check out and drive to Ravenna, one of Italy's most important historic and artistic sites
Visit the local market and Byzantine monuments famous for mosaic
PM   Visit Sant'Appollinare in Classe
Check in to charming La Locanda di Bagnara and enjoy some free time to wander the village settle in.
Dinner in nearby Bagnacavallo at the Osteria in Market Square
Buona notte
Overnight: La Locanda di Bagnara
Day 5   Brisighella
Drive a short distance to see the towns of Faenza and smaller Brisighella
Stroll  and photograph with free time for lunch in Brisighella
Leave for the village of Dozza
Wine tasting at the Regional Enoteca in the Dozza Castle
Dinner at well loved Ristorante La Scuderia
Overnight: La Locanda di Bagnara
Day 6    Sasso Morelli
Workshop time at La Locanda.  Review our images on the big screen and discuss post-processing tips and tricks.
Drive to Sasso Morelli to visit the gardens of Villa La Babina
Lunch offered by CLAI, a local producer of prosciutto and salami
COOKING SCHOOL at the Trattoria La Sterling
After an afternoon in the kitchen, we'll dine on the pasta dishes we've produced at the trattoria.  (No doubt there will be backup dishes!)
Day 7   Imola / Predappio
Short drive to the town of Imola, home of our intrepid host Gabriele, to spend time in the open market meeting friends and working on our street shooting skills (and shopping skills)
Head up to Predappio Alto for a wine tasting at the ancient Cantina Nicolucci
Return to our hotel for some down time.  Photographic discussions and review, open time in the village
Farewell dinner at Ristorante La Locanda
Overnight: La Locanda di Bagnara
Day 8    Workshop and Review
AM   Workshop wrap up with more tips and tricks
On-screen review of your stunning images!
Return to Bologna, then on to Florence for those staying there.  Arrive Florence by 3PM May 25
Arrivaderci!
Workshop Leader
Drake Busath, Master Photographer, CR will lead this workshop and photograph alongside you during the week.  He will offer insights he's gained over 40 years traveling, living and photographing in Italy. Drake will help you to accomplish your  goals, whether that means building your professional portfolio or simply learning how to master your camera. His teaching style is friendly and supportive and Drake has hosted hundreds of photographers in Italy since founding Italy Workshops in 1999, many return year after year to enjoy Italy with a camera and a fork.
Tour Producer / Guide Our partner Gabriele Angelini is an Italian photographer and publisher who makes his home in Imola, near Bologna.  His passion for street photography is infectious and it's a pure pleasure to shoot alongside him.   The first thing you'll notice is his big smile and his unbridled enthusiasm for every place we photograph. Gabriele is also excited to share his native cuisine, that the Emilia Romagna region, the heart of classic Italian cuisine.  He's lined up a very special cooking, eating and learning experience for us. For many years Gabriele taught history of photography at the University of Bologna (founded 1000AD) and shares his studied insights with us as we travel.
Frequently Asked Questions
Any camera is acceptable, including smartphones. Automation for the beginner can make the trip fun and stress-free and, at times, increase creativity.
Participants who are very comfortable with their computer are encouraged to bring it along. Editing your images during the week can enhance your learning experience. We currently use Adobe Lightroom CC for our on-screen reviews sessions. You will learn new LR editing methods and workflow shortcuts during classroom reviews and critique. Even if you've used Lightroom, we highly recommend brushing up before the workshop by watching the free tutorials available on Adobe.com. If you are not fluent downloading and managing digital images, you might consider leaving the computer behind and just focusing on camera work. You can still submit images daily for review, and perhaps find more time to learn about your camera and develop a discerning eye. (Not to mention sleep happily while others are editing into the night) Observer Participants may be beginner photographers, attending all instruction and field trips, but not required to submit photos for critique. This is a fun way to learn without pressure. You'll still photograph the same things and we'll still want to review your work on the back of your camera and offer individual instruction in the field.
All Skill Levels Are Welcome
Beginner and Intermediate Photographers
Our goal is to simplify and de-mystify digital camera options.  The first step is turning off most of the automation on the camera.  Short, daily field lessons will then add one simple technique at time. Soon you're able to concentrate on composition and lighting rather than buttons and menus.  
 Any camera is welcome (yes, even smartphones!). Non-photographer partners are welcome to sit in on all discussions and participate at their own level of interest. (Beginners often make some of the best images of the tour.)
Advanced Photographers
As an advanced photographer you'll be encouraged to:
Build your portfolio, adding strong images every single day of the trip.

Focus on style development, lighting and composition.

Work in "concentrations" to produce a collection of work suitable for a gallery showing or book project.
You will return home with a body of work suitable for a gallery showing or book project that will express your personal style, as opposed to a random collection of travel photos.
Bologna "Foto & Foodie" Tour Dates
Bologna 
|  May 18-25, 2022
---
Meet:  Bologna, Italy*
Depart: Bologna, Italy
Group Size: 6-10 guests
$4150 / Participant (double occupancy) $450 / Single supplement private room
See also our Tuscany workshop the week before: May 8-15th
Included:
Travel
All ground and water travel is included.
Hotels
Accommodations are included.
Meals
All breakfasts, 1 lunch, and 3 special dinners.
Workshop
Photo Workshop tuition and Cooking Class
---
Not Included:
Airfare
Trip insurance (recommended)
*Also not included are crowds of tourists, slow moving tour guides and lectures on the history of plague 🙂
Payment Schedule
A reservation fee of $500/person will hold your spot
The balance of payment is due 120 days prior to your workshop/tour
Hotel Rooms
We use hotels rated 3 or 4 stars, always with private bath. Rooms are assigned in order of reservations received, so early signup is recommended. Ask about premium rooms if you would like to upgrade for an additional supplement charge.
Single Private Room Supplements
Fees are based on double occupancy. Single supplement may be added for participants who wish to have a private room to themselves. Supplements vary depending on the hotels used.  If you are traveling alone and wish to share a room with another participant, please let us know and we'll do our best to match you with a roommate.
Cancellation fee schedule 
There is no charge for cancellation within ten days of booking your workshop.
After ten days, reservation fees are non-refundable but may be applied to a future workshop event.
Cancellations less than 90 days prior to workshop incur a cancellation fee of 25% of the total workshop cost.
Cancellations less than 45 days prior to workshop incur a cancellation fee of 50% of the total workshop cost.
Cancellations less than 15 days prior to workshop incur a cancellation fee of 100% of the total workshop cost.
No partial refunds will be given for unused portions of a workshop.
Travel Insurance We strongly recommend that you purchase travel  insurance to protect your investment.  Travel Guard is a good place to start shopping for trip insurance.  You can get a free quote online.
Cancelled Workshops
Italy Workshops reserves the right to cancel any trip for any reason whatsoever, including insufficient signup, logistical problems that may impede a workshop, hotel closures or acts of God. Refund of all fees paid shall release Italy Workshops from any further liability. Italy Workshops is not responsible for any expenses incurred by workshop participants in preparing for a cancelled workshop. In the case of insufficient signup to make a workshop feasible, notice and refund will be sent 120 days prior to the workshop.
Photographic Release
Italy Workshops reserves the right to photograph and film its trips in entirety. Participants should be aware that images of them may be used for promotional purposes or joint marketing efforts with third parties, without remuneration.
Warning
: chmod(): No such file or directory in
/nfs/c08/h04/mnt/117165/domains/italyworkshops.com/html/wp-includes/plugin.php(452) : runtime-created function
on line
1
Warning
: chmod(): No such file or directory in
/nfs/c08/h04/mnt/117165/domains/italyworkshops.com/html/wp-includes/plugin.php(459) : runtime-created function
on line
1
Warning
: chmod(): No such file or directory in
/nfs/c08/h04/mnt/117165/domains/italyworkshops.com/html/wp-includes/plugin.php(466) : runtime-created function
on line
1
Warning
: chmod(): No such file or directory in
/nfs/c08/h04/mnt/117165/domains/italyworkshops.com/html/wp-includes/plugin.php(471) : runtime-created function
on line
1
Warning
: chmod(): No such file or directory in
/nfs/c08/h04/mnt/117165/domains/italyworkshops.com/html/wp-includes/plugin.php(477) : runtime-created function
on line
1
Warning
: chmod(): No such file or directory in
/nfs/c08/h04/mnt/117165/domains/italyworkshops.com/html/wp-includes/plugin.php(484) : runtime-created function
on line
1
Don't wait! This group is limited to 10
You can hold your spot by filling out the form below, or by calling us at 801-364-6645
Warning
: chmod(): No such file or directory in
/nfs/c08/h04/mnt/117165/domains/italyworkshops.com/html/wp-includes/plugin.php(452) : runtime-created function
on line
1
Warning
: chmod(): No such file or directory in
/nfs/c08/h04/mnt/117165/domains/italyworkshops.com/html/wp-includes/plugin.php(459) : runtime-created function
on line
1
Warning
: chmod(): No such file or directory in
/nfs/c08/h04/mnt/117165/domains/italyworkshops.com/html/wp-includes/plugin.php(466) : runtime-created function
on line
1
Warning
: chmod(): No such file or directory in
/nfs/c08/h04/mnt/117165/domains/italyworkshops.com/html/wp-includes/plugin.php(471) : runtime-created function
on line
1
Warning
: chmod(): No such file or directory in
/nfs/c08/h04/mnt/117165/domains/italyworkshops.com/html/wp-includes/plugin.php(477) : runtime-created function
on line
1
Warning
: chmod(): No such file or directory in
/nfs/c08/h04/mnt/117165/domains/italyworkshops.com/html/wp-includes/plugin.php(484) : runtime-created function
on line
1
Warning
: chmod(): No such file or directory in
/nfs/c08/h04/mnt/117165/domains/italyworkshops.com/html/wp-includes/plugin.php(452) : runtime-created function
on line
1
Warning
: chmod(): No such file or directory in
/nfs/c08/h04/mnt/117165/domains/italyworkshops.com/html/wp-includes/plugin.php(459) : runtime-created function
on line
1
Warning
: chmod(): No such file or directory in
/nfs/c08/h04/mnt/117165/domains/italyworkshops.com/html/wp-includes/plugin.php(466) : runtime-created function
on line
1
Warning
: chmod(): No such file or directory in
/nfs/c08/h04/mnt/117165/domains/italyworkshops.com/html/wp-includes/plugin.php(471) : runtime-created function
on line
1
Warning
: chmod(): No such file or directory in
/nfs/c08/h04/mnt/117165/domains/italyworkshops.com/html/wp-includes/plugin.php(477) : runtime-created function
on line
1
Warning
: chmod(): No such file or directory in
/nfs/c08/h04/mnt/117165/domains/italyworkshops.com/html/wp-includes/plugin.php(484) : runtime-created function
on line
1