Exclusive Private Tours in Italy
We will take you places the average tourist can't access.  
You will meet local people and taste authentic regional foods and wine.
You will travel backroads in private vans and escape the tourist traps.  
We take no kickbacks like tour companies do. We only take you to places we love ourselves. Our tours are customized for you and designed to take you to the best locations in the most magical light.
We can book hotels and great meals for you or simply meet up with you for excursions during your stay. Because we've hosted many hundreds of photographers, of all abilities, for 22 years in Italy, we can maximize your experience while minimizing your cost.  
We look forward to hosting you!
TOUR SUGGESTIONS
Southern Tuscany

Dolomite Alps

Venice and its lagoon

Cinque Terre

Lake Como / Lake Orta
Puglia (Southern Italy)
Southeastern Sicily and its passionate traditions
Rome for photographers
Bologna for true travelers and foodies
A Example Tour – Six Days in Tuscany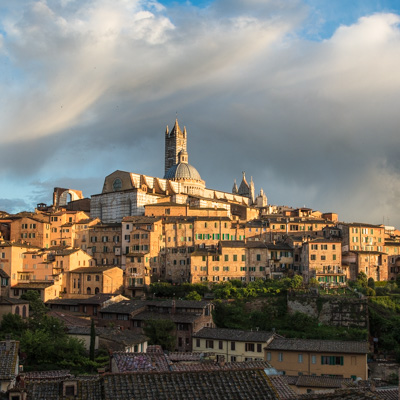 Day 1
Meet us in Florence or Rome and let us arrange your travel together to Siena. 
Travel can be by train or private car.
Check into Siena accommodation, chosen based on your preference, from rustic villa to luxury hotel.
Take an unhurried walking excursion with our friend and local guide, Claudia, through the historic center and mix some Renaissance history with your street photography. 
After an evening overlook shoot, relax for an authentic dinner in one of Claudia's favorite haunts.

Day 2
Rise early and photograph Siena as the city awakens, alongside Gabriele, a seasoned Italian photographer and publisher. 
Free time to fall in love with this best-preserved of all Italian cities. 
Meet for a truly unique wine tasting with Federico, owner of Cantina del Brunello, in his own private Etruscan cave.
Find yourself on the perfect perch for a sunset overlook of the city.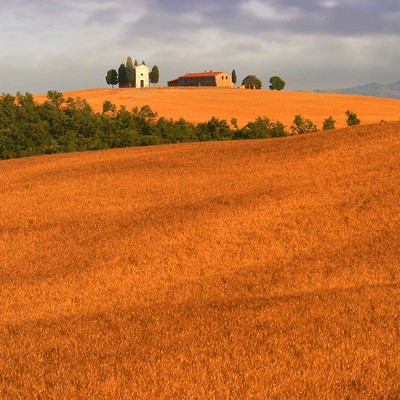 Day 3
Transfer south to the famous landscapes of the Val d'Orcia region.
Check in at our all-time favorite agriturismo, Pieve a Salti, for a rustic farmhouse experience but with ALL the amenities.  
Stop at Buonconvento, an undiscovered gem of a working town where tourism hasn't taken over and locals on the street still outnumber visitors. 
Stand on a hillside while the rolling landscapes and farmhouses of Val d'Orcia take your breath away.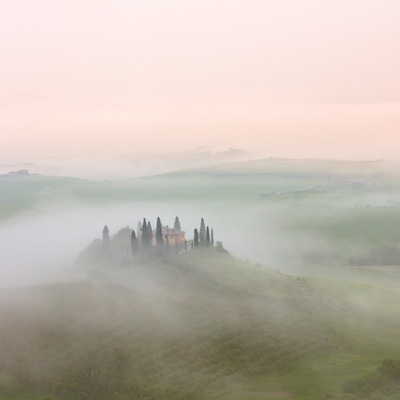 Day 4
Rise early for a spectacular sunrise in the hills, even right from the front door of your apartment, if you want.
After our farm-fresh breakfast we love to wander and explore the nearby hill towns; Pienza, Montalcino  and Montepulciano. Landscapes along way mean lots of stops and dirt road diversions. 
End the day in the pristine village of Monticchiello with sunset overlooks and then a fabulous dinner with our friends at Osteria La Porta.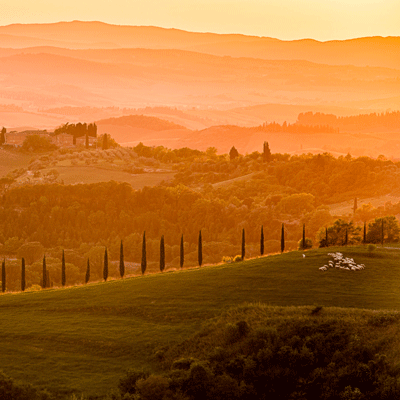 Day 5
Today we delve into the untrampled area of the Crete Sienese. Sheep on the hills, Cypress-lined roads, a Tuscan ghost-town and a picnic lunch with wine and a view.
Traveling by private cars and vans you'll experience the country's true backroads, paved or not.
More than twenty years of tours and advice from the locals have helped us arrange the best visits and the right times of day so you can have truly authentic experiences far away from the "maddening crowds" of Florence and Rome.
Finish the day with views over one of the greatest monasteries in Italy and then a lingering meal among friendly locals. This is a day you'll never forget. 
We'll arrange for your travel back to Florence or Rome and say goodbye until next time!
For those wanting help with editing or printing photographs from your tour, we offer online tutoring, custom editing service and printing.
Take your photography to a new level
Traveling with a professional travel-photographer helps you see things differently. Not only will we get to the best spots at the most magical time of day, but you'll also learn to see and capture "little epic" images, which often become the favorites.  
Short instructional sessions get you started and answer any questions about camera settings. Oodles of free time allow you to lose yourself in the narrow streets and to find your own inspiration.  
In the field, we will hold short discussions to help you find the sweet light and to create more dynamic compositions. You'll also get tips on approaching locals and norms for street photographing as we visit villages along the way.
About 75% of our workshop guests return for another tour, saying that this combination of learning and freedom makes their travel a rich experience worth repeating.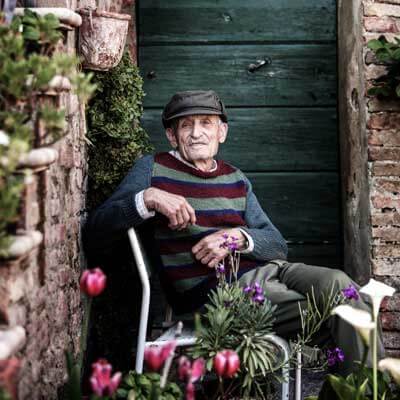 Your hosts (and new friends)
Who are we?
We're a small group of friends with deep interest in showing photographers the real Italy. We discovered that our ideals for the perfect photo tour aligned, so for the past several years we've worked together.
Gabriele Angelini lives in nearby Bologna in the town of Imola and runs a publishing company alongside his true passion, photographing his native Italy. He taught history of photography at University of Bologna and loves all Italian history so he always has a great story to share.
Mauro Riva is a travel professional based in the Dolomite mountains north of Venice. After a career in tech for a time in Canada, he retuned to Italy to pursue his dream: creating deep cultural experiences for visitors helping small communities thrive. Mauro is a licensed guide and travel agent.
Drake Busath is an American photographer who has lived in Tuscany and Veneto and has organized photographic workshops in Italy for the past 22 years. He has lectured by invitation in 35 U.S. states and 8 countries and is known for both his portraiture and "village-scapes". Drake is based in Salt Lake City where he operates a studio with a staff of ten.
Popular seasons fill a year in advance.  Please reserve early.
Tell us your preferences on the the form below,
or call us at 801-364-6645