A Sample of our Private Tours / Tuscany & Cinque Terre
8 days, 7 Nights      Min 3 Guests          Name your own dates
---
Exclusive Private Tours
See the best of Tuscany along with Mediterranean villages of the Cinque Terre.  This is just one of many private itineraries veteran travel photographer Drake Busath has crafted leaving the crowds behind so you can savor the quiet villages, landscapes, local dishes and wines of rural Italy.  
With stellar accommodations and great meals included,  this is a worry free experience.  And because we've specialized for 20 years in Italy, we can maximize your experience while minimizing your cost.  
Ask about private tours of other locations in Italy too!
TOUR HIGHLIGHTS
Two nights in the medieval city of Siena

Famous landscapes of Val d'Orcia, coveted by photographers worldwide

Quaint villages off the beaten track

Mediterranean towns of the Cinque Terre

Exclusive private visits, including wine tasting in an Etruscan tomb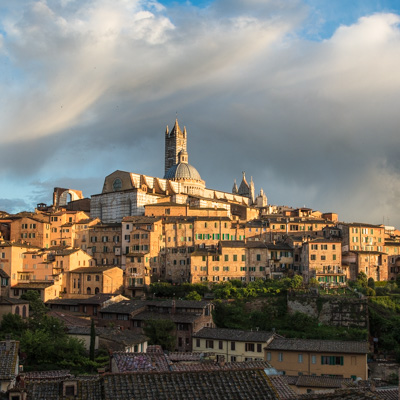 Day 1
Meet up in Florence and travel together to Siena. (Arrive in Florence 2-3 days early if possible and enjoy this great city).
Check into our Siena hotel, chosen for its panoramic view of the city.  Walking tour of the historic center with our friend and local guide.

Day 2
Rise early and photograph Siena as the city awakens.  Free time to shop, eat and explore in Drake's all-time favorite Italian city.  Unique piazza del Campo,  the spectacular Duomo, and a special private visit to the Siena Archives.
Wine tasting in an Etruscan cave.
Dusk overlook of the city.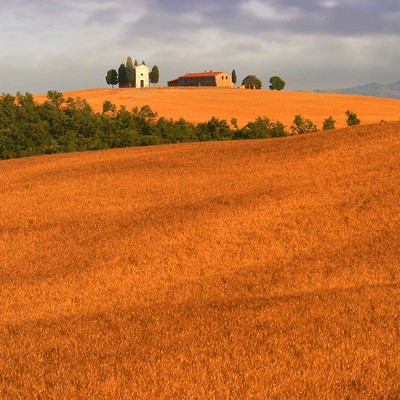 Day 3
Transfer south to San Querico in the Val d'Orcia region with its uber-famous landscapes.
Stop in at Buonconvento, an undiscovered gem of a town.
Evening landscape shoot.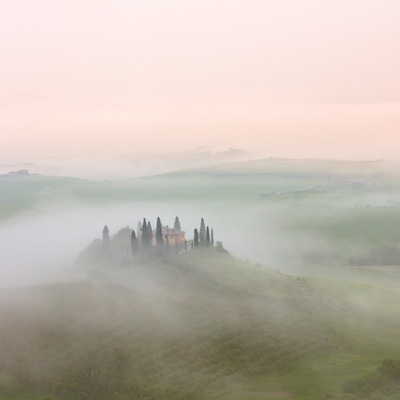 Day 4
Sunrise on famous Belvedere villa in the rolling hills.
Landscapes along the road to elegant Pienza.
End the day in pristine Monticchiello with sunset and fabulous dinner at La Porta.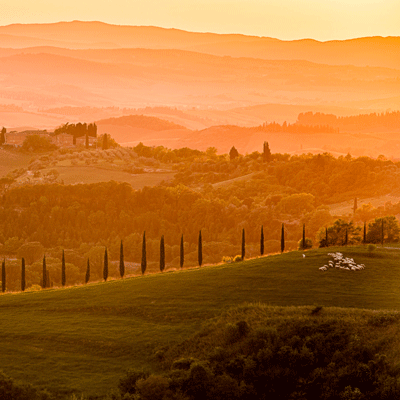 Day 5
Escape to Drake's favorite (and secret) towns in the Crete Sienese region. Sheep, Cypress trees, a ghost-town and a picnic with a view.
Finish the day at a working monastery and dinner at a castle.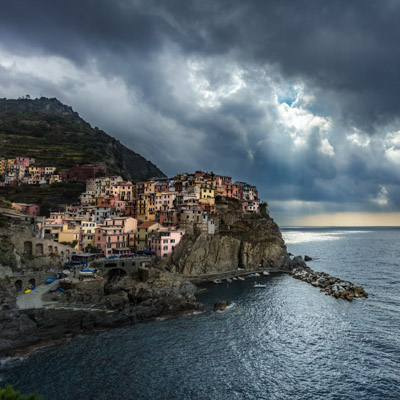 Day 6
Transfer to Monterosso in the famous Cinque Terre.  Stop along the way to see the medieval towers of San Gimignano or Volterra. 
Check in and enjoy some fresh seafood in the harbor.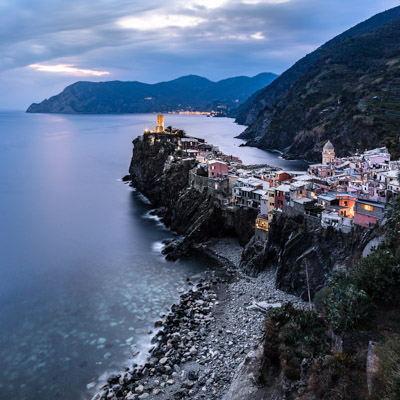 Day 7
A big day in the 5 towns of the Cinque Terre.
Photograph the colorful houses cliff-clinging at Riomaggiore and Manarola, then finish with dinner and a spectacular blue-hour view of Vernazza.
Day 8
One last lazy day on the Med, then we head to the walled city of Lucca.  After lunch in this wonderful town, we'll continue to Florence. 
Check in and stay a few nights on your own in Florence, with about a million things to see and photograph.
Take your photography to a new level
Traveling with a professional travel-photographer helps you see things differently.  Not only will we get to the best spots at the most magical time of day, but you'll also learn to see and capture "little epic" images, which often become the favorites.  
Short instructional sessions get you started.  Oodles of free time let you lose yourself in the narrow streets and landscapes to find your own inspiration.   Most of our guests return for another tour, saying its this combination of learning and freedom they enjoy the most. 
In the field, we learn to find the sweet light and to create more dynamic compositionst. You'll also get tips on approaching locals and norms for street photographing as we visit villages along the way.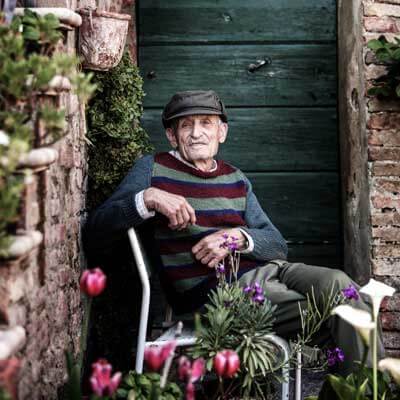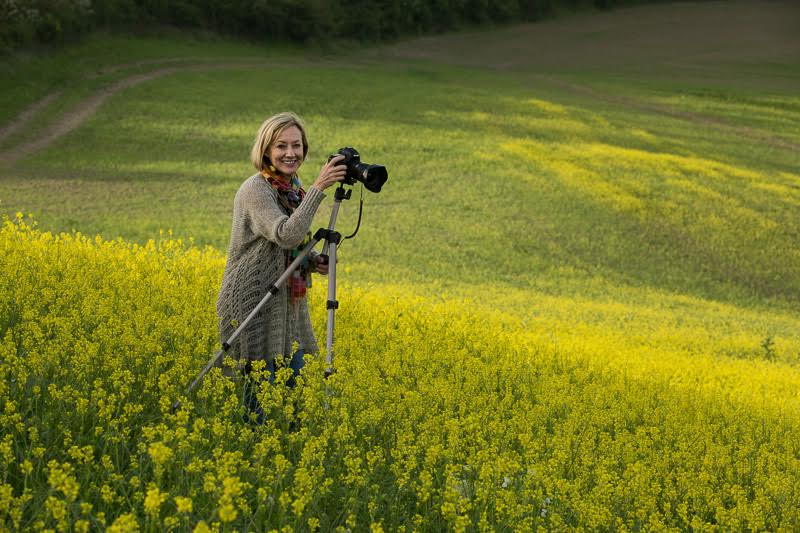 Your Local Hosts in Italy
Our small group of fun-loving photographers can offer you private tours anywhere in Italy, from Sicily and Puglia in the far south to the Dolomites up north.
We can book all your hotels and travel for you, keeping  you out of the heavily touristed areas.  Or you can book your own and just meet up with us.
Either way, you'll find that touring with a local expert and experienced photographer means better meals, interactions with local people and generally a more authentic travel experience.
Frequently Asked Questions
We're not camera snobs. Any camera is acceptable, including smartphones. A trip like this is meant to be fun and stress-free and and focused on increased creativity.  It's best to bring a camera you're already comfortable with.
Participants who are very comfortable with their computer are encouraged to bring it along. Editing your images during the week can enhance your learning experience. We currently use Adobe Lightroom CC for our on-screen reviews sessions. You will learn new LR editing methods and workflow shortcuts during classroom reviews and critique. Even if you've used Lightroom, we highly recommend brushing up before the workshop by watching the free tutorials available on Adobe.com.
If you are not fluent downloading and managing digital images, you might consider leaving the computer behind and just focusing on camera work. You can still submit images daily for review, and perhaps find more time to learn about your camera and develop a discerning eye. (Not to mention sleep happily while others are editing into the night)
Observer Participants may be beginner photographers, attending all instruction and field trips, but not required to submit photos for critique. This is a fun way to learn without pressure. You'll still photograph the same things and we'll still want to review your work on the back of your camera and offer individual instruction in the field.
Tuscany & Cinque Terre Photo Workshop Dates
Tuscany & Cinque Terre | An Example of our Private Photo Tours
Any time of the year
---
Begin: Florence, Italy
End: Florence, Italy
Participants: 3-12
Price
From $2950/person.  Contact us for a quote!
Included:
Travel
Ground travel by minivan from Siena , returning to Siena.
6 nights accommodations.
Hotels
First night or two in the historic center of Siena,  with the best view of the city right off your balcony.
The remainder of nights in private apartments at Fattoria Pieve a Salti, a working 15th century farmhouse complex, fully remodeled with new A/C, TV, amenities including indoor and outdoor pools, spa, restaurant.
Meals
Luxurious breakfast each day at the farm
Dinner or lunch each day as we travel.
Wine tasting at famous Tuscan cantinas
Workshop
Workshop tuition, including on-screen reviews of your daily work (voluntary) and one-on-one photographic instruction in the field throughout the week.
---
Not Included:
Airfare
Trip insurance (recommended)
Also not included are crowds, slow moving tour guides and lectures on the history of plague 🙂
Payment Schedule
A reservation fee of $500 will hold your spot
50% of balance is due 120 days prior to your workshop
The balance of payment is due 60 days prior to your workshop
Rooms
We use hotels rated 3 or 4 stars, always with private bath. Rooms are assigned in order of reservations received, so early signup is recommended. Ask about premium rooms, at some workshop locations for an additional supplement charge.
Single Supplements
Fees are based on double occupancy. Single supplement may be added for participants who wish to have a private room to themselves. Supplements vary depending on the hotels used. If you are traveling alone and wish to share a room with another participant, please let us know and we'll do our best to match you with a roommate.
Cancellation fee schedule 
There is no charge for cancellation within ten days of booking your workshop.
After ten days, reservation fees are non-refundable but may be applied to a future workshop event.
Cancellations less than 90 days prior to workshop incur a cancellation fee of 25% of the total workshop cost.
Cancellations less than 45 days prior to workshop incur a cancellation fee of 50% of the total workshop cost.
Cancellations less than 15 days prior to workshop incur a cancellation fee of 75% of the total workshop cost.
No partial refunds will be given for unused portions of a workshop.
We highly recommend that all workshop participants purchase trip cancellation insurance independently.
Cancelled Workshops
Italy Workshops reserves the right to cancel any trip for any reason whatsoever, including insufficient signup, logistical problems that may impede a workshop, hotel closures or acts of God. (We have never yet had to cancel a workshop.)
Refund of all fees paid shall release Italy Workshops from any further liability. Italy Workshops is not responsible for any expenses incurred by workshop participants in preparing for a cancelled workshop. In the case of insufficient signup to make a workshop feasible, notice and refund will be sent 120 days prior to the workshop.
Photographic Release
Italy Workshops reserves the right to photograph and film its trips in entirety. Participants should be aware that images of them may be used for promotional purposes or joint marketing efforts with third parties, without remuneration.
Reserve Your Italy Workshop Experience Today
Popular seasons fill a year in advance.  Please reserve early.
Tell us your preferences on the the form below,
or call us at 801-364-6645